Once dearly called "Pearl of the Far East" with the level of luxury higher than Hong Kong or Bangkok, Ho Chi Minh City (formerly known as Saigon) is now a popular tourist place in Vietnam. It is one of Asia's most vibrant and welcoming cities which possess a cultural melting pot with something special to offer for every traveler.

Being Vietnam's largest and most exciting metropolis with a prominent history going back hundreds of years, Saigon is very hectic, crowded, noisy, yet it is also historic and interesting.

Unlike Hanoi, the capital of Vietnam, Saigon has less charm and elegance, but the city with its essential French colonial character has plenty to draw your attention. The colonial villas, wide avenues and a lively cafe society in the city reminds the days of French dominance.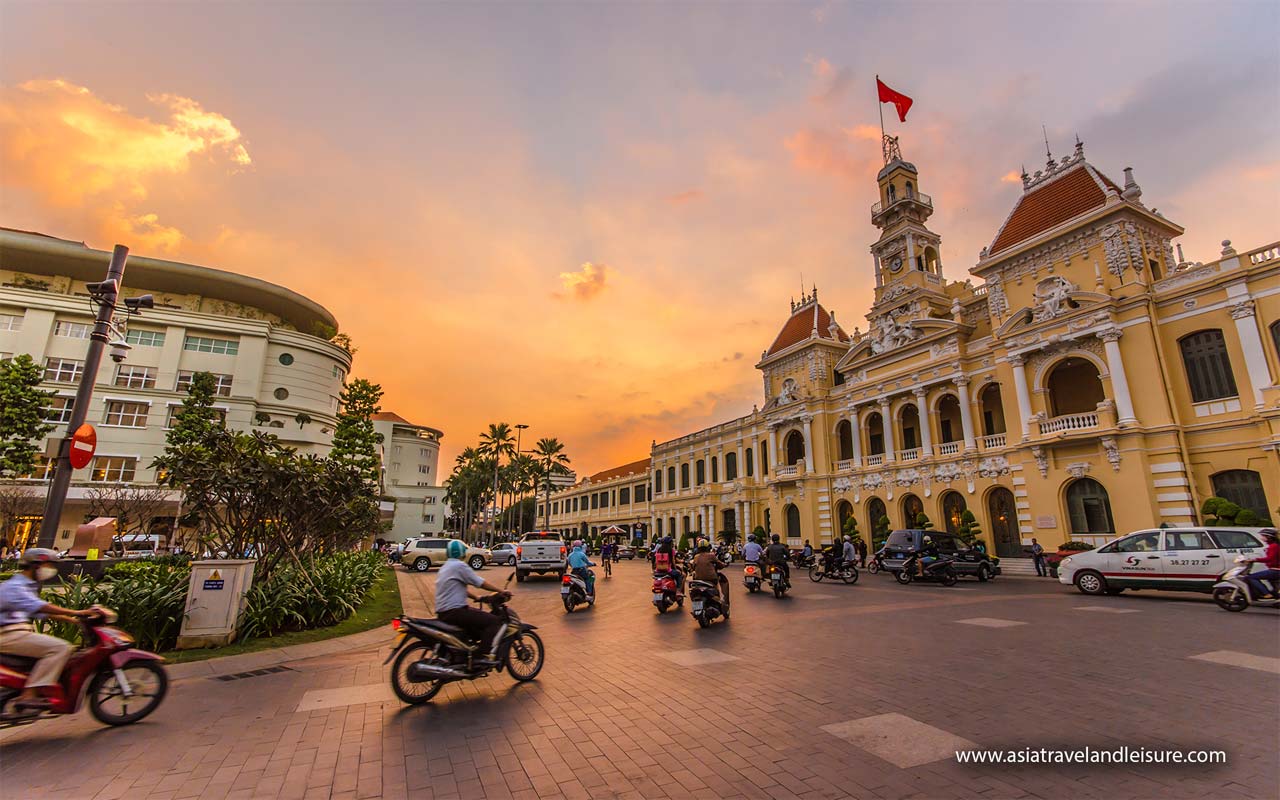 Now modern office skyscrapers, oriental style pagodas, and street food stalls create a dynamic and bustling urban area. This is an ideal place to start your journey in Vietnam with many historic landmarks such as Opera House, Notre Dame Cathedral, War Remnants Museum, the Reunification Palace and Ben Thanh Market to name but a few.

It would be a mistake if not to mention to the colorful nightlife in Saigon. Bars and nightclubs are open late and vary in style. Adding to that, the city is filled with many tea-houses which host live music performance of both Vietnamese and international artists. For a change, you can also go local for one night or two, hop into one of the street food stalls, order some drink and roasted peanuts and chat with friends until late night. It will be an unforgettable experience.

Saigon has nowadays transformed into a city offering visitors a fantastic abundance of shopping. Explore the many new shops and boutiques of a rejuvenated Dong Khoi Street, the famous Rue Catinat of the French elite in the colonial era or the central Ben Thanh Markets for buying many kinds of souvenirs.

From Ho Chi Minh City, you can easily take an excursion through the lush countryside and sleepy villages of the Mekong Delta and deep into the agricultural heart of the country. Explore Mekong's largest floating markets or enjoy a romantic sunset on cruises zipping along the Saigon River. Just hours away from this city, you can get into beautiful beaches, islands, rivers, villages, jungles or historic sites.

The rhythm of life in Ho Chi Minh is so bustling and lively; people here are also friendly and hospitable, which absorbs any tourists. Experience amazing Ho Chi Minh City!