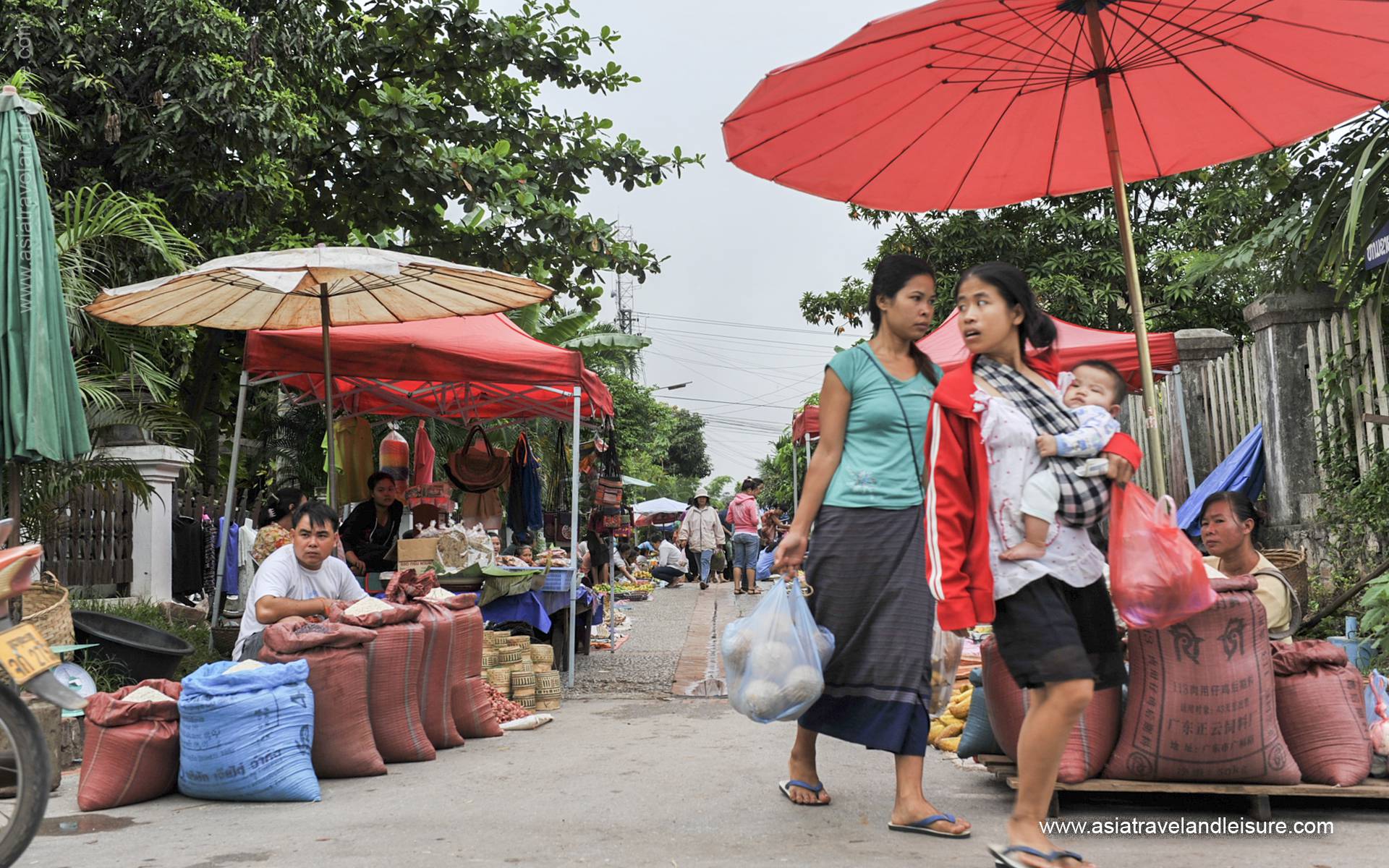 This two-week tour "From Halong Bay To Luang Prabang" is designed to highlight two of Indochina's most exceptional destinations: northern parts of Vietnam & Laos. Imagine you walk across the exciting streets of Hanoi's Old Quarter, experience a homestay with the Zay tribe people of Sapa, visit the old French battle field in Dien Bien Phu. Moreover, you also will visit UNESCO World Heritage Site of Luang Prabang and the beautiful Kuang Si Waterfall. This breathtaking and inspiring journey is sure to astound you at every turn.
From Halong Bay To Luang Prabang - 14 Days

-

Vietnam Tours
Start city: Hanoi (Vietnam)
Finish city: Luang Prabang (Laos)
Duration: 14 Days & 13 Nights
Departure: Private Tour. Daily, upon your request.
Cities to visit: Hanoi - Halong Bay - Sapa - Dien Bien Phu - Nong Khiaw - Luang Prabang
- Extendable with optional tours from Hanoi (Vietnam) and from Luang Prabang (Laos)
Tour Highlights
Discover Duong Lam ancient village in Hanoi
Halong Bay Cruise
Homestay in Sapa
Learn Vietnamese/ French war history in Dien Bien Phu
Luang Prabang - a UNESCO World Heritage Site.
BRIEF & PRICE
ITINERARY
TOUR MAP
FAQs
BRIEF & PRICE
PRIVATE TOUR COST: Prices are quoted in US dollars per person double occupancy.
ITINERARY
Day 1: Hanoi Arrival

Welcome to Hanoi, Vietnam's bustling colonial capital. Driver and guide of Travel Vietnam will meet you outside the baggage claim at Noi Bai Airport and take you to your hotel in the city center.
Meals: N/A.Accommodation: Hotel in Hanoi.

Day 2: Hanoi – Duong Lam Village – City Tour
After breakfast, you will drive about 50km from Hanoi to visit Duong Lam ancient village in Son Tay province. Duong Lam, a purely agricultural village of the Northern Red River Delta. On arrival we take a walk on the village path to visit Mong Phu temple where is dedicated to national heroes, King Ngo Quyen and King Phung Hung temples.
In the afternoon, enjoy an orientation walk, visiting some of Hanoi's main attractions: the opera house, Old Quarter, Hoan Kiem Lake and Ngoc Son Temple. In the evening, enjoy a traditional Water Puppet Performance – a unique Vietnamese Art form hailing from Southeast Asia's wet-rice culture.
Meals: Breakfast.
Accommodation: Hotel in Hanoi.

Day 3: Hanoi – Halong Bay Cruise
Enjoy breakfast at the hotel, then set out on a 3 to 4-hour drive to the UNESCO World Heritage site: Halong Bay. Spend 24 hours on a traditional Boat Cruise in the amazing bay: a natural wonderland composed of jutting limestone islands and sparkling turquoise waters. Arrive at the dock around noon and board your private boat. Savor a gourmet lunch of fresh seafood onboard as we sail out into the mystical bay. In the afternoon, cruise around some of Halong's many islands, including Dinh Huong and Ga Choi. Along the way, visit one of the bay's 3 largest caves (Thien Cung, Dau Go or Sung Sot). Stop at an island cove with a sheltered white-sand beach and take a dip in the warm waters of the East Sea (Bien Dong). Pass the night on your private junk, lulled to sleep by the gentle rocking of calm waters.
Meals: Breakfast, Lunch & Dinner.
Accommodation: Cruise on Halong Bay.

Day 4: Halong Bay – Hanoi
A wake early and participate in Tai Chi on the top deck or simply relax and watch the sunrise over the bay's towering islands. Enjoy a morning cup of coffee or tea, before setting out to explore the nearby islands by rowboat. Return to the junk for brunch, then take advantage of the sundeck to admire the amazing rock formations of Bai Tu Long Bay as we navigate back to Halong City. Our driver will meet you at the dock and take you back to Hanoi.
Meals: Brunch
Accommodation: Hotel in Hanoi.

Day 5: Hanoi – Sapa
Early morning, your guide & driver will meet you at the lobby of the hotel then leave Hanoi for Sapa on a six hour journey on the Vietnam's longest and modern highway.
On arrival, your guide will take you on a two-hours trek through the terraced rice fields to visit the villages Cat Cat and Sin Chai where you will learn about local traditions and daily life.
Back to town in afternoon and free to discover the town by you own.
Meals: Breakfast.
Accommodation: Hotel in Sapa.

Day 6: Sapa – Lao Chai – Ta Van
This morning, drive to Tram Ton Pass, Heaven's Gate – the highest peak of roads in Vietnam (over 2000m). Admire the spectacular views, even the Fansipan summit, the highest peak of Indochina mountains (weather permits) and visit the nearby Silver Waterfall with marvelous scenery of the surrounding nature. Stop along the way to visit O Quy Ho village which known for the different kinds of vegetables, flowers, fruit trees and even medicinal plants grown here.
After lunch in the town, visit Lao Chai & Ta Van village with a short leisurely walk, an excellent way to explore the daily life and familiarize yourself with the cultures of the H'mong and Dzay people who populate the region. The trek through the breathtaking scenery of Sapa valley also gives you an opportunity to admire the amazing rice terraces. Overnight with homestay service.
Meals: Breakfast.
Accommodation: Homestay in Ta Van village.

Day 7: Sapa – Dien Bien Phu
Today you will wake up early to take the transfer from Sapa to Dien Bien Phu. On the way enjoy picturesque views of the scenic landscape, the rural villages lay peacefully in the valleys. You will have the chance to stop along the way to visit the local tribe villages.
Upon arrival Dien Bien Phu, check in the hotel and relax.
Meals: Breakfast.
Accommodation: Hotel in Dien Bien Phu.

Day 8: Dien Bien Phu Discover
Nestled in a heart shaped basin near the border with Laos, lies Dien Bien Phu. The famous historical battleground, where the Vietnamese successfully defeated the French, marking the end of French colonial occupation in 1954.
Start the day early with a visit to the local market where you will meet charming Thai tribes in their traditional costume purchasing their farm products. The next is military base and historical site of the First Indochina War. We drive 30 minutes out of city to the base of The Command of Dien Bien Phu Campaign (Muong Phang) – Located in a primitive forest in Muong Phang commune to the commanding bunker of General Commander-in-chief Vo Nguyen Giap and Hoang Van Thai.
In the afternoon, you will visit Dien Bien Phu Museum, built in 1984 on the occasion of the year 30th after Dien Bien Phu Victory before visiting A1 Hill - the most important camp of the French and Bunker of the French General De Castries.
Some free time of your own in the afternoon relax by strolling around the town.
Meals: Breakfast.
Accommodation: Hotel in Dien Bien Phu.

Day 9: Dien Bien Phu – Cross Tay Trang Boder – Muang Khua
After breakfast in the hotel, we drive down south through the peaceful Muong Thanh Valley to the Tay Trang border gate to Laos where our Laos guide and driver are await you.
(It may take 30 minutes to 1 hours for Immigration and customs processes)
Crossing the border, we continue through one of Laos' most remote regions to Muang Khua, a one-horse border town located on the banks of the Nam Ou River.
Upon arrival Muang Khua, you will check in the guest house and discover the town by you own.
Note: The Tay Trang border gate immigration normally closes for lunch between12.00 - 13.30.
Meals: Breakfast.
Accommodation: Guest house in Muang Khua.

Day 10: Muang Khua – Boat trip to Muang Ngoi – Nong Kiaw
This morning, you will take the long tail boat downstream Ou river to Muang Ngoi.
Along the way, stop off to visit several different ethnic villages. You actually pass straight through Muang Ngoi at first and pay the village of Ban Sop Jam a visit. This village is famous for its traditional Lao silk and cotton weaving, here you can purchase some beautiful textiles if you wish.
In the afternoon continue the journey to Nong Khiaw – a charming rustic little town on the bank of the Ou River. It is squeezed in between some of the most fantastic limestone mountains north of Laos.
Meals: Breakfast.
Accommodation: Hotel in Nong Khiaw.

Day 11: Nong Khiaw – Luang Prabang
Have breakfast in the hotel then take a pleasant walk around the village enjoying the village feel with great views over the Nam Ou river or visit a small temple complex in the center of town. Continue the journey of 2 hours drive passing picturesque scenery along the Nam Ou River and beautiful mountainous setting heading to Pak Ou Caves - a pantheon of gold Buddha statues tucked into the nooks of the limestone cliffs. Enjoy the cruise along Mekong from the cave to village of Ban Xang Hai. Stop here to learn how local make Lau Lao (Lao whisky) and Lau Hai (Lao wine), before continuing this river way down the Mekong to Luang Prabang. Check in at the hotel then take an evening stroll through the quaint streets and enjoy the sunset over the river and surrounding lush countryside. The evening highlight includes a visit to the local night market in the city center, where ethnic minority people come together to buy and sell their wares.
Meals: Breakfast.
Accommodation: Hotel in Luang Prabang.

Day 12: Luang Prabang City Tour
Situated where the Nam Khan River meets the Mekong, lies the fabled city of Luang Prabang - the former capital of Laos and a UNESCO World Heritage site. With its lantern lit streets, lined with a mix of faded colonial mansions and sparkling mosaic temples; this city is known to enchant its visitors. Have breakfast at the hotel then enjoy a half-day tour through Luang Prabang. Begin with a visit to the Royal Palace Museum, then head to the magnificent Wat Xiengthong - representative of classic Laotian architecture, before seeing the impressive temple of Wat Mai. Then visit the Traditional Arts and Ethnology Centre for insight in to the countries various ethnic groups and traditional crafts. Later that day, adjourn to the Phousi Holy Hill to enjoy the marvelous panoramic views of the town at sunset. Free to discover the night market by your own.
Meals: Breakfast.
Accommodation: Hotel in Luang Prabang.

Day 13: Luang Prabang – Living Land Farm (join in group) – Kuang Si Waterfall
An optional early start gives you the fantastic opportunity to participate in the daily morning rituals of saffron-clad monks collecting offerings of Alms (ubiquitous sticky rice) from the faithful residents. This tradition is very unique in Laos, being the only Buddhist nation still preserving the procession. From there you will visit the local morning, where you will see such diverse offerings as dried buffalo skin, local tea and saltpeter among the chickens, vegetables and hill-tribe weavings.
Next, tour guide will pick you up at hotel for very exciting tour in Living Land Farm where you can learn the process to make rice and practice it by your own. Today you will become a real farmer to work on the farm, besides, you also will have chance to communicate with local people and see their daily work.
In afternoon, drive to the beautiful Khouangsi Waterfall where you can cool off with a refreshing swim in the turqoise pools or walk along the forest trails.
Meals: Breakfast.
Accommodation: Hotel in Luang Prabang.

Day 14: Luang Prabang Departure
Have breakfast at the hotel and then enjoy a free morning at your leisure before driving to the airport to catch your departure flight.
Meals: Breakfast.
Accommodation: N/A.

TOUR MAP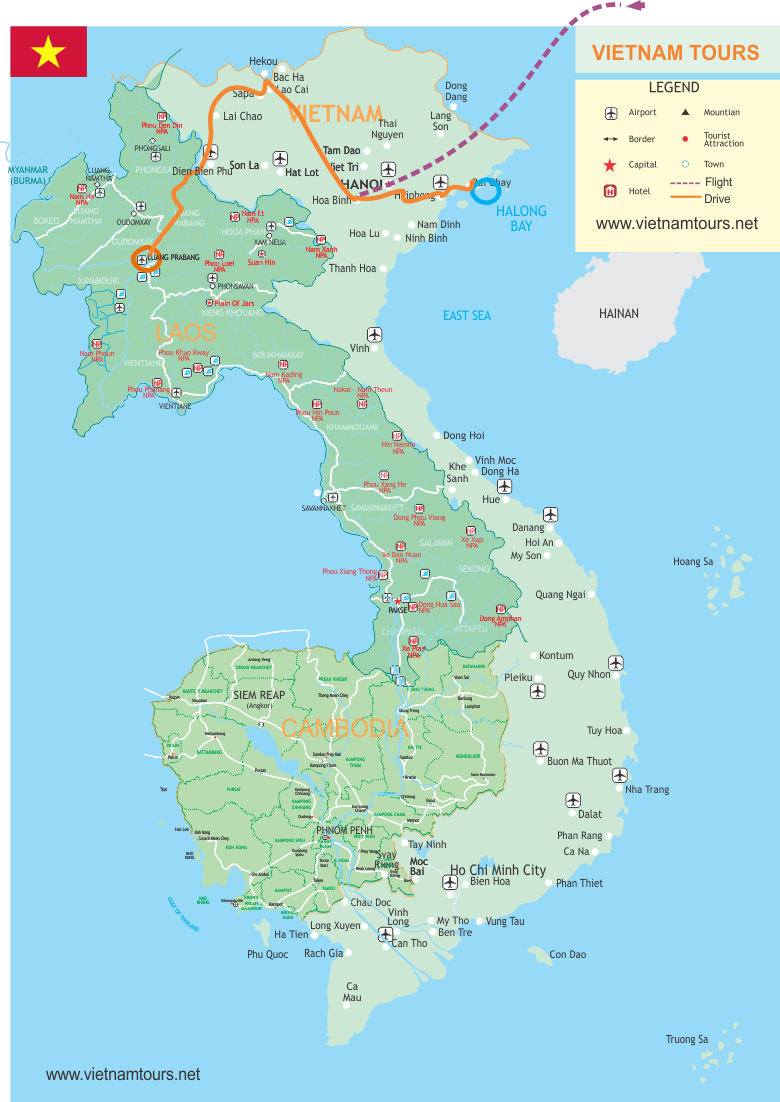 FAQs
1. Are tour dates of "From Halong Bay to Luang Prabang" flexible?
Yes, this tour package is private and you can depart on any dates at your convenience.
2. Can I extend or change my stay?
Absolutely! Extra days can be arranged in most areas if desired. Let us know how you would like to customize your trip and we will do our best to accommodate you. You can ask helps from our travel consultant to amend or extend your stay (subject to availability of hotels and flights; surcharge may be applicable).
3. Are the rates displayed per person or per room?
The prices shown on our website are per person based on twin/ double accommodation.
4. Any surcharges if my travel dates are during Christmas or New Year Holidays?
The rates are regular price and they are not included a compulsory dinner (Gala Dinner) on the day of Christmas or New Year Eve. Surcharges depend on specific hotels you stay at, so our travel consultants will give further information to you in communications.
5. Are there any discounts available?
We offer select trip discounts periodically throughout the year, especially in the low season (Summer time in Vietnam is from May to Sep). Please contact our travel consultants to get more details.
6. How do I pay when I want to book this tour?
We accept payment by debit/ credit card (Visa, Master, Amex), cash and bank transfer. When you confirm a booking with us, we will send you our online payment link or bank details to deposit 30% of the total tour cost. The balance will be due as soon as you arrive in Cambodia. Our travel consultants will give more details via email about payment instruction.
7. Are meals included?
We have tried to balance flexibility and convenience regarding meal options. This tour package includes daily buffet breakfast at hotels and some lunches or dinners as listed in parenthesis next to the tour itinerary on each day tour. In the major cities, where there are a wide variety of restaurants, we generally do not include meals to allow our travelers the flexibility of choosing their own food preferences. Our tour guides can recommend some options for our clients to choose from according to traveler's interest & budget.
8. What type of food is typical of Vietnam?
Vietnamese cuisine is quite varied from the North to the Centre and to the South, having had many external influences over the years that have created an interesting mix of cooking methods and ingredients. French presence in the recent past has led to the assimilation of French cuisine influence, and is often attributed with Pho noodle soup's rise to popularity. Most meals include rice, as well as fish sauce which is a popular condiment added to almost every meal throughout the country.
9. What if I have a special request on food?
You just need to share us your request on type of foods, we will choose a right restaurant and order suitable menus for you.
10. What are the accommodations like?
Vietnam Tours only recommends good hotels rated from 3 stars to luxurious resorts. They are located within walking distance of the town center and the reception generally speaks English. For more information, check with your travel consultants to view pictures of our suggestion on standard hotels/ lodges/ resorts. Don't forget that you can give your favorite name of hotel brands to us, so we can get your concept.
11. What type of transportation is used?
Our Vietnam tours utilize a variety of primarily private transportation (arranged just for your groups) including new and modern vans/ cars, motor boats, etc. We use a mix of private (vans/ cars)/ public transportation (domestic flights, sharing cruises, trains) to provide travelers with the safest and most efficient transit in each area.
12. Is this tour suitable for kids?
Yes! If you have children traveling with, ask your travel consultants to customize the tour program to fit a variety of interests and ages. We also focus on family friendly vacations with less travel and minimum drive times and maximum in-country activity that will keep younger minds engaged.
13. How many people are typically on your tours?
We only offer completely private tours, so only the people you book for will be on the tour. If you are alone, it will just be you and your guide. If you are a couple, just the two of you and your guide, and so on. We believe this is the best type of tour, so that it can be personalized to you, go at your own pace, and so that you can have the full attention of your guide for the duration of the tour.
14. Is this trip a good choice for solo travelers?
Yes, it is. You will still have a private tour guide and driver to accompany throughout the journey. However, you have to cover all expenses regarding accommodations (single room), tour guides, transportations because no-one shares cost with.
15. Do tour rates include international flights?
This tour only includes domestic flights. We find that it is usually less expensive for travelers to book these separately and this also allows you the flexibility to choose the schedule and routing that is most convenient for you. You can purchase international flights on your own, or we can certainly help you arrange these flights with an airfare consolidator who specializes in international flights.
16. How do I get to the hotel from the airport when I arrive?
When you arrive at airports, you will be greeted with your name on our driver/ tour guide's welcome sign, then get transferred to your hotel.
17. How if bad weather such as storm, flood, landslide occurs during my holiday with Vietnam Tours?
Our Travel Consultants and Tour Operators keep checking weather forecast every-day, if the weather is bad and it may affect to your safety, we will discuss with you regarding a tentative program immediately.
18. How much should I budget for tips?
Tips are not compulsory on any of our tours. However, it is customary to offer a small tip for exceptional service. Other travelers opt to bring small souvenirs from their home to give to tour guides and drivers along the way.
19. Is travel insurance included? And is it recommended?
Travel insurance is not included in our tour price. Absolutely, we recommend you to contact with your local agent in your country to buy travel insurance before you go.
20. How to change or cancel my reservation?
- You can change or amend your schedule in advance or during your trip but surcharge maybe applied according to our contract with local suppliers, hotels and airlines. Regarding cancelation terms, please check out this link: https://asiatravelandleisure.com/terms-conditions.html
WANT TO ASK A QUESTION?
Above Price Included
Accommodations with daily breakfast
Meals as mentioned in the itinerary
Private tours, transfers and all services as mentioned in the itinerary
Services of private drivers and air-conditioned vehicles
Halong Bay Cruise Package (2 days/ 1 night)
Service of English/ French speaking tour guides
Entrance fees, performances, boat trips & excursions.
Above Price Excluded
International flights into Vietnam and out Laos
Meals other than those mentioned in the itinerary
Early check-in and late check-out at hotel
Personal expenses (such as laundry, telephone, drinks, etc.)
Tips for tour guides and drivers
Travel insurance
Visa fees.
Vietnam Tours are private and depart daily. Vietnam Tours can organize any additional accommodation.
Call us on +8424 3942 9444 to speak to one of our experts or click here to request a quote.