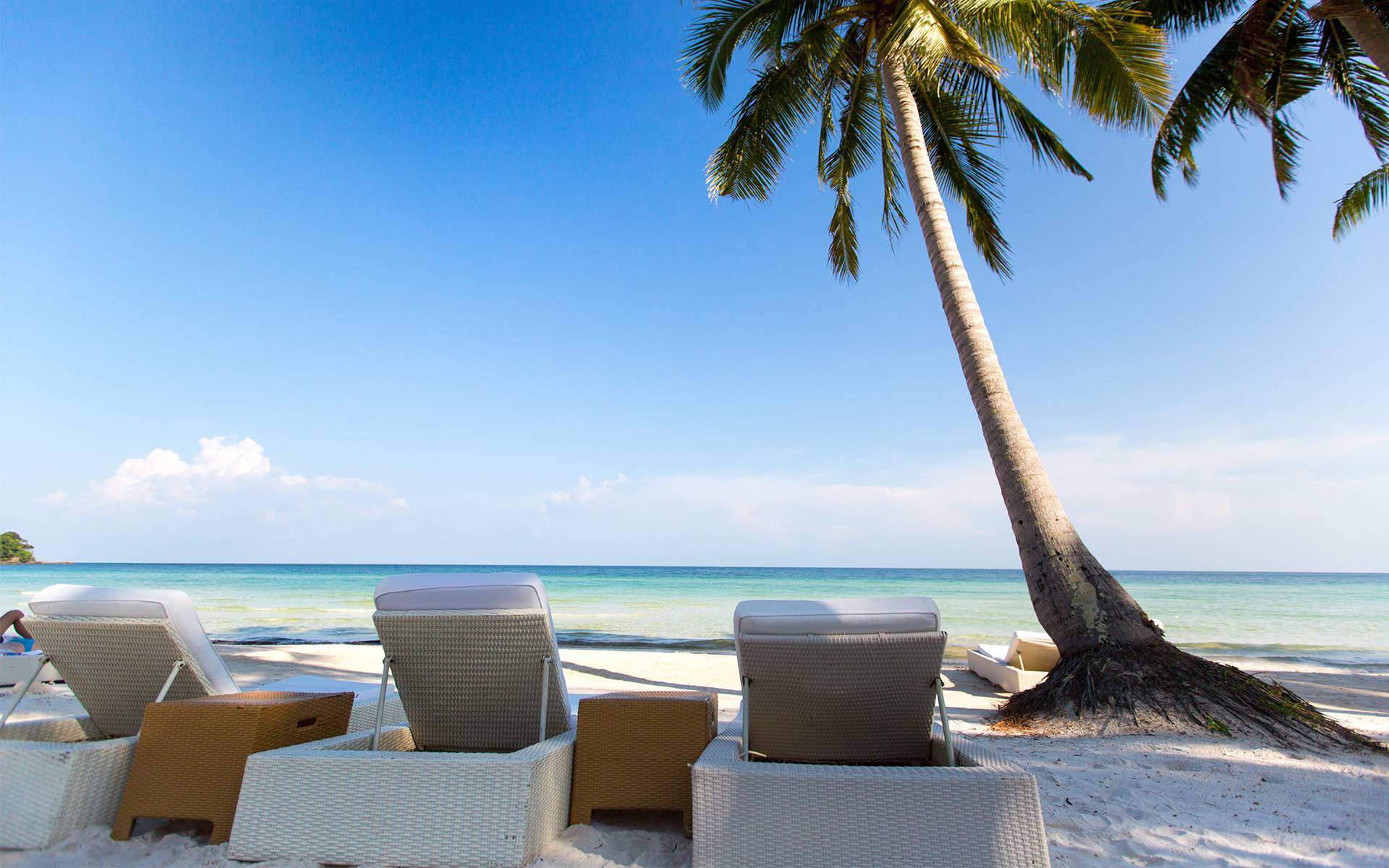 Fancy a VIP getaway? Our Luxury Vietnam Holidays adds a little something extra to make your stay even more special. Treat yourselves to a once-in-a-lifetime luxury holiday to Vietnam. Combine the bustling streets of Hanoi and dramatic Halong Bay with an idyllic beachfront stay in Danang. An indepth exploration of Vietnam also takes you to Saigon and Mekong Delta with the largest floating market. Lastly, enjoy the slow life on a peaceful island of Phu Quoc in the south...
Luxury Vietnam Holidays - 14 Days

-

Vietnam Tours
Start city: Hanoi (Vietnam)
Finish city: Ho Chi Minh City (Vietnam)
Duration: 14 Days & 13 Nights
Departure: Private Luxury Tour. Daily, upon your request.
Cities to visit: Hanoi - Ninh Binh - Hai Phong - Halong Bay - Danang - Hoian - Ho Chi Minh City - Mekong Delta - Can Tho - Phu Quoc
- Extendable with optional tours from Hanoi (Vietnam) and from Ho Chi Minh City (Vietnam)
Tour Highlights
Discover a different way of living
Visit the biggest pagoda in South East Asia: Bai Dinh
Explore Trang An Scenic Landscape Complex which was inscribed as a UNESCO World Heritage Site
Overnight cruise on a traditional Junk boat on Lan Ha Bay, Halong Bay & Bai Tu Long Bay
Visit the charming old port town of Hoi An
Time to relax on the picturesque beaches of Central & South Vietnam
Stay in the most luxurious accommodations that Vietnam has to offer.
BRIEF & PRICE
ITINERARY
TOUR MAP
FAQs
BRIEF & PRICE
PRIVATE TOUR COST: Prices are quoted in US dollars per person double occupancy.
ITINERARY
Day 1: Hanoi Arrival.
Welcome to Hanoi, Vietnam's bustling colonial capital. Your guide and driver will meet you outside the baggage claim of Noi Bai Airport and take you to your hotel in the city center. In the afternoon, take a walk around the center, visiting some of Hanoi's main attractions: the Opera House, Old Quarter, Hoan Kiem Lake and Ngoc Son Temple. In the evening enjoy a traditional Water Puppet Performance of a unique Vietnamese Art form hailing from Southeast Asia's wet-rice culture - followed by a welcome dinner at one of Hanoi's lovely restaurants.
Meals: Dinner.Accommodation: Hotel in Hanoi.

Day 2: Hanoi City Tour.
Today is a full day to explore Vietnam's charming capital. Start with a visit to the Temple of Literature, which is well known as the first university of Vietnam. Follow it with one of the city's museums (a choice between the History Museum and the Ethnology Museum).
In the afternoon, transfer to the Ba Dinh Square where stands the Mausoleum of President Ho Chi Minh who led Vietnam to its independence from French colonial rule. This site has become an important city landmark and a perfect place to learn more about Vietnam's rich history. From there, wander through the beautiful surrounding gardens toward the One Pillar Pagoda and Presidential Palace, where a replica of Ho Chi Minh's simple working space is on display.
Later, hop on a cyclo, one of the most typical vehicles in Hanoi, is a human-powered transport with a seat at the front for passengers and the driver at the back. With this an hour leisurely ride, which is perfect chance for photos and slow-moving sightseeing, you will have a great local touch. Disembark at the ancient city gate of O Quan Chuong, then continue walking to Thanh Ha local market and through bustling streets & alleys before ending at Ta Hien Street where you will enjoy a glass of local beer at its corner with all the locals around.
Meals: Breakfast.
Accommodation: Hotel in Hanoi.
Day 3: Hanoi – Ninh Binh – Bai Dinh & Trang An.
Today you are taken on 2.5 hour drive to Ninh Binh province where presents you an ancient land enriched with cultural and geographic wonders that were recently World Heritage Site listed.
Upon arrival, visit Bai Dinh Pagoda complex, the largest pagoda, not only in Vietnam but also in Southeast Asia. This place is scenically set on the foothill of Dinh Mountain, surrounded by amazing views of the exquisite river valley below, and dotted with limestone karsts, which will take your breath away. The pagoda complexes stunningly boast an array of the most massive and magnificent refined Vietnamese architecture, which will take a full day to explore.
After lunch, you will leave for the Trang An Grottoes, an outstanding 20 square kilometer majestic limestone massif, which rises dramatically out from the rice paddy fields. Embark on a traditional sampan gently rowed down the exquisite river through numerous caves: "Hang Toi" (Dark Cave), "Hang Sang (Light Cave) and "Hang Nau Ruou" (Cooking Wine Cave). Every passage brings a new hidden inside isolated valleys of tranquility, which perhaps transformed to another world and time.
Overnight at Emeralda Ninh Binh Resort & Spa which is set within a prime location on the edge of the Van Long Nature Reserve's jungles.
Meals: Breakfast & Lunch.
Accommodation: Hotel in Ninh Binh.

Day 4: Ninh Binh – Hai Phong – Overnight on cruise.
Following the breakfast, enjoy a scenic drive to Hai Phong where you will board the Orchid Cruises on an enchanting journey throughout the beautiful Ha Long Bay. On arrival, the welcome drinks, cruise briefing and safety instructions are delivered by the cruise manger followed by your cabin check in. The uniquely designed itineraries allow you to experience the less traveled routes that other cruises simply don't offer. Apart from exploring the natural beauty of many islets in the leisure pace, the today program also includes more activities such as kayaking on the vast sea, cooking class onboard to challenge your skills in preparing a very famous Vietnamese dish. All fresh seafood meals are on-house as well.
Meals: Breakfast, Lunch, Dinner.
Accommodation: Orchid Cruise.

Day 5: Hai Phong – Hanoi – Fly to Danang.
Wake up to fresh coffee, doing taichi before cruising back to the shore. En route the junk weaves through impressive rock formations where the Dark & Bright Cave is situated. After having a brunch, disembark to head back to Hai Phong City where your driver will meet and transfer you straight to Noi Bai Airport to catch your domestic flight to Da Nang.
Upon arrival at Da Nang Airport, take a short drive to hotel in the city. Check in and relax then.
Meals: Brunch.
Accommodation: Hotel in Danang.

Day 6: Danang – Hoian Walking Tour & Handicraft Village visit by boat.
Hoian Ancient Town is wonderful break in the middle of your journey.
From the 16th to 18th centuries, Hoian was a thriving international commercial port for Chinese, Dutch, French, Japanese, Portuguese and Arab traders. These people came primarily to trade in the high grade silk, which is still produced in the area, as well as ceramics. Today, Hoian is a quaint riverside town, popular with tourists for its eclectic architecture, tailors shops, and numerous cafes. Some of the buildings in the narrow streets have remained unchanged for more than a century.
After breakfast, you will take you on a short drive to Hoian for city tour. Starting the day with a walking tour through the narrow winding streets of the Ancient Quarter visiting Chua Ong Pagoda, Chinese Assembly Halls, the 200-year old Tan Ky ancestral house, and the Japanese Bridge. After lunch (your own account), take a short boat trip to a nearby island and visit a handicraft village specializing in ceramics. Return to the hotel in the late afternoon and enjoy a free evening at your leisure.
Meals: Breakfast.
Accommodation: Hotel in Danang.

Day 7: Danang – Free at leisure.
Enjoy your wonderful time at one of hottest beaches of Vietnam. Today is also time for you to enjoy an included spa package as well.
You can simply laze on beautiful sandy beach or hop on shuttle bus to Hoian and explore the town on your own. There are lots of things that you can do in Hoian. The Cua Dai beach - a long and white sand is just a short distance from the hotels where you can swim and relax. Cycling in this peaceful town is also a memorable experience as you discover the old town and its nearby handicraft village (Kim Bong carpenter village, Tra Que herb planting village). Hoian is also very famous for clothes and shoes tailor – made with high quality and very reasonable prices.
Meals: Breakfast.
Accommodation: Hotel in Danang.

Day 8: Danang – Fly to HCM City.
Today you are free until get transfer to Danang airport for flight to Vietnam's modern metropolis: Saigon. On arrival, your guide and driver will meet and transfer you to hotel in center.
In the evening, we suggest the cultural show at 117 years old Opera House as an option on tour trip. The name 'A O' derives from 'Lang Pho', which means 'village and city'. The show depicts the charming beauty and cultural richness of Vietnamese life in the countryside, in contrast with the nation's racing urbanization. The show is a unique mix of bamboo cirque, acrobatic acts, contemporary dance, and theatrical visual art. The live music echoes Vietnamese Southern work songs. All in all, this beautiful blend of genres creates a unique stage language, which well captures the essence of Vietnam's fascinating culture.
Meals: Breakfast.
Accommodation: Hotel in Ho Chi Minh City.

Day 9: HCMC – Cu Chi Tunnels – City Tour.
Today you travel out of Saigon to visit the Cu Chi Tunnels, an underground labyrinth of passageways, used by the Viet Cong during the Vietnam War (or "American War" as it's referred to here) as protection against American air raids. Those inclined are invited to crawl through selections of the tunnels to better understand what life was like for the Vietnamese soldiers during wartime.
Stop for lunch then continue on the city tour with a visit to the War Remnants museum and former Presidential Palace. Conclude the day exploring the city's French colonial architecture, stopping at the Notre Dame Cathedral and the Old Post Office and browse through the amazing array of goods at Ben Thanh Market.
Meals: Breakfast.
Accommodation: Hotel in Ho Chi Minh City.

Day 10: HCMC – Mekong Delta – Can Tho.
Today you leave Saigon and travel to the Mekong River Delta. Enjoy an early breakfast at the hotel before driving to the riverside town, Cai Be. Along the way, stop at a candy factory and orchard garden where you have an opportunity to listen to traditional music. Enjoy a relaxing lunch at a riverside restaurant, then cross the river by motorized boat to visit some fluvial islands and explore the countryside by bicycle. Your driver will meet you at Vinh Long pier and take you to Can Tho City for the night.
Meals: Breakfast & Lunch.
Accommodation: Hotel in Can Tho.

Day 11: Can Tho – Cai Rang Floating Market – Fly to Phu Quoc.
Wake early and leave the hotel to visit the famous Cai Rang floating market by motorized boat. Continue the boat ride to visit the Mekong Delta's famous fruit orchards and sample the fresh, exotic fruit. Then venture deeper into the country-side, passing traditional houses made of wood and palm leaves as you observe the activities of the local people. Afterwards, head to Can Tho Airport for a short flight to Phu Quoc Island. On arrival, get transferred to hotel in town.
Meals: Breakfast.
Accommodation: Hotel in Phu Quoc.

Day 12: Phu Quoc – Free at leisure.
Today, you are totally free to choose what you want to do.
To the one who loves nature, snorkeling at the marine to observe coral reef and their denizens is a tour that should not miss. The islets in the North West and in the South are teeming with colorful small reef fish, sea urchin, starfish and mollusks. In combining with fishing activities, snorkeling tour may bring you a feeling of the winner who has conquered the Ocean of Phu Quoc Island. This optional tour is not included. You are advised to contact hotel receptionist for information.
Meals: Breakfast.
Accommodation: Hotel in Phu Quoc.

Day 13: Phu Quoc – Free at leisure.
Continue for free day to relax on the sandy beach or snorkel in clear crystal waters teeming with many species of marine life which are set against the colorful coral gardens. Off the beach you can get on a bike to explore the nearby fishing village and make fun with waving kids on road sides. An ideal way of spending your last afternoon in Phu Quoc is to relax in a bar by beachfront while watching sunset over the ocean.
Meals: Breakfast.
Accommodation: Hotel in Phu Quoc.

Day 14: Phu Quoc – Fly back to HCMC – Departure.
Today you are free until being transferred to airport to catch your flight back to Saigon and connect flight home. Tour concludes.
CAM ON VA HEN GAP LAI (Thank you and See you again).
Meals: Breakfast.
Accommodation: N/A.
TOUR MAP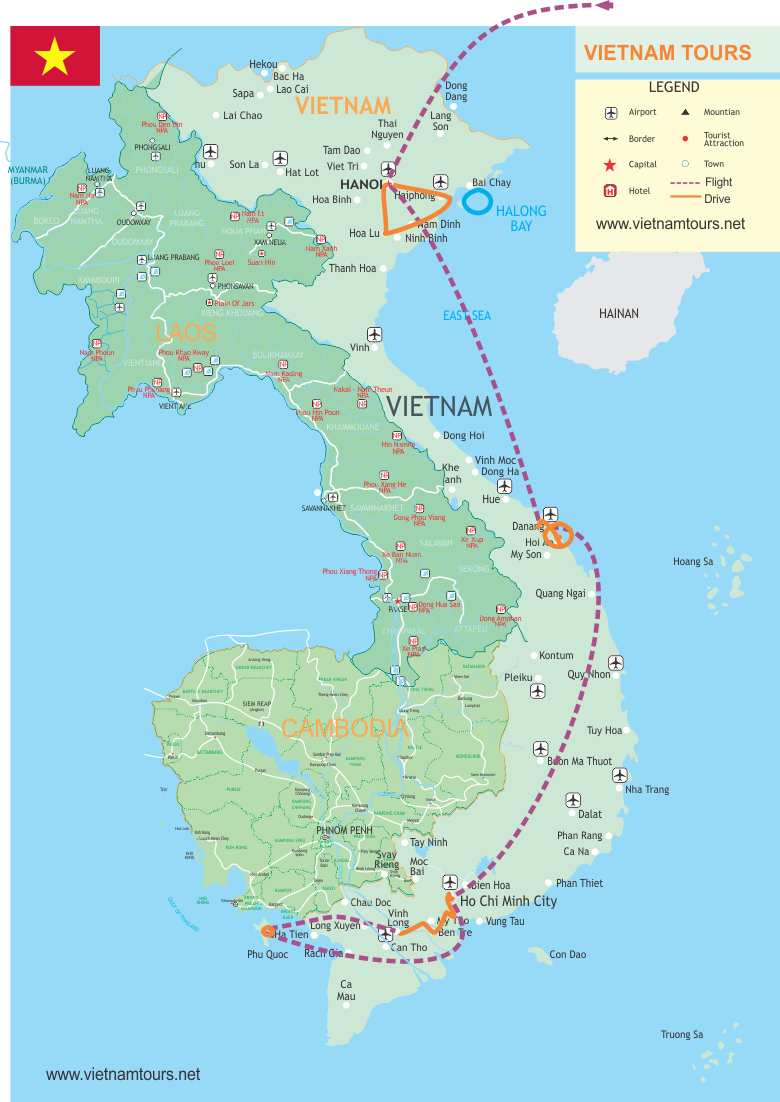 FAQs
1. Are tour dates of "Luxury Vietnam Holidays" flexible?
Yes, this luxury tour package is private and you can depart on any dates at your convenience.
2. Can I extend or change my stay?
Absolutely! Extra days can be arranged in most areas if desired. Let us know how you would like to customize your trip and we will do our best to accommodate you. You can ask helps from our travel consultant to amend or extend your stay (subject to availability of hotels and flights; surcharge may be applicable).
3. Are meals included?
We have tried to balance flexibility and convenience regarding meal options. This tour package includes daily buffet breakfast at hotels and some lunches or dinners as listed in parenthesis next to the tour itinerary on each day tour. In the major cities, where there are a wide variety of restaurants, we generally do not include meals to allow our travelers the flexibility of choosing their own food preferences. Our tour guides can recommend some options for our clients to choose from according to traveler's interest & budget.
4. What type of food is typical of Vietnam?
Vietnamese cuisine is quite varied from the North to the Centre and to the South, having had many external influences over the years that have created an interesting mix of cooking methods and ingredients. French presence in the recent past has led to the assimilation of French cuisine influence, and is often attributed with Pho noodle soup's rise to popularity. Most meals include rice, as well as fish sauce which is a popular condiment added to almost every meal throughout the country.
5. What if I have a special request on food?
You just need to share us your request on type of foods, we will choose a right restaurant and order suitable menus for you.
6. What are the accommodations like?
For luxury travel packages, we only choose 5 star accommodations or if not – they will be the best ones in their regions. In case you prefer to stay at the TOP luxury hotels/ resorts/ cruises or higher room category, just ask our travel consultants to revise the quotation. Don't forget that you can give your favorite name of hotel brands to us, so we can get your concept.
7. Can I get early check-in or late check-out?
Yes this may be possible but is wholly at the discretion of the hotel and is often charged extra. We can, if you wish, book you additional nights at the hotel to guarantee that you check in as soon as you arrive or to enable you to keep your room until your departure time. We usually recommend this for flights through the night or at unsociable hours. Some hotels have courtesy room/luggage storage facilities and we advise you to check if this is possible at the time of your booking.
8. What are the guides like?
All of our tour guides are professional, helpful and friendly! They are fluent in English (or French, Spanish etc.). They are from the local areas where they guide and are among the very best guides available in each region. Our guides treat our travelers like friends, showing visitors both the major highlights and the local treasures.
9. What type of transportation is used?
Our Vietnam tours utilize a variety of primarily private transportation (arranged just for your groups) including new and modern vans/ cars, motor boats, etc. We use a mix of private (vans/ cars)/ public transportation (domestic flights, sharing cruises, trains) to provide travelers with the safest and most efficient transit in each area.
10. How do I get to the hotel from the airport when I arrive?
When you arrive at airports, you will be greeted with your name on our driver/ tour guide's welcome sign, then get transferred to your hotel.
11. How many people are typically on your tours?
We only offer completely private tours, so only the people you book for will be on the tour. If you are alone, it will just be you and your guide. If you are a couple, just the two of you and your guide, and so on. We believe this is the best type of tour, so that it can be personalized to you, go at your own pace, and so that you can have the full attention of your guide for the duration of the tour.
12. Is this trip a good choice for solo travelers?
Yes, it is. Many of our guests travel solo. You will still have a private tour guide and driver to accompany throughout the journey. However, you have to cover all expenses regarding accommodations (single room), tour guides, and transportations because no-one shares cost with.
13. What vaccinations are recommended for this holiday?
It's important that you receive the most accurate and up-to-date travel health information for the region you will be visiting. The only one qualified to provide you with this advice is your family physician or a specialist from a Travel Health clinic.
14. What's the climate like?
Whilst Vietnam is typically warm and humid, the weather can vary significantly from one region to another due to the country's length. The weather in Vietnam can be split by region and seasons, so please check with our travel consultants for more information.
15. How if bad weather such as storm, flood, landslide occurs during my holiday with Vietnam Tours?
Our Travel Consultants and Tour Operators keep checking weather forecast every-day, if the weather is bad and it may affect to your safety, we will discuss with you regarding a tentative program immediately to ensure the best interests of the group.
16. What is tipping information?
If you're happy with the service you received, providing a tip for tour guides, drivers - though not compulsory - is appropriate. While it may not be customary to you, it's of great significance to the people who will take care of you during your travels, inspires excellent service, and is an entrenched feature of the tourism industry.
17. Do tour rates include international flights?
This tour only includes domestic flights. We find that it is usually less expensive for travelers to book these separately and this also allows you the flexibility to choose the schedule and routing that is most convenient for you. You can purchase international flights on your own, or we can certainly help you arrange these flights with an airfare consolidator who specializes in international flights.
18. Are the rates displayed per person or per room?
The prices shown on our website are per person based on twin/ double accommodation.
19. Any surcharges if my travel dates are during Christmas or New Year Holidays?
The rates are regular price and they are not included a compulsory dinner (Gala Dinner) on the day of Christmas or New Year Eve. Surcharges depend on specific hotels you stay at, so our travel consultants will give further information to you in communications.
20. Are there any discounts available?
We offer select trip discounts periodically throughout the year, especially in the low season (Summer time in Vietnam is from May to Sep). Please contact our travel consultants to get more details.
21. How do I pay when I want to book this tour?
We accept payment by debit/ credit card such as Visa, Master, Amex (additional service fee 3% is applicable), cash and bank transfer. When you confirm a booking with us, we will send you our online payment link or bank details to deposit 30% of the total tour cost. The balance will be due as soon as you arrive in Cambodia. Our travel consultants will give more details via email about payment instruction.
22. What happens if I fall ill or injure myself?
Most travelling incidents are relatively minor, involving nothing more than cuts and bruises or a brief case of traveller's tummy. Our tour guides are trained to cope with these minor incidents but in the unlikely case of something more serious, we will seek local medical assistance. We suggest you buy cancellation and curtailment insurance.
23. I can't use my holiday anymore – can I give it to someone else?
Yes, our packages are usually transferable (unless the terms of a specific offer state otherwise). So long as you haven't used part of your package, you can (generally) give it to a friend or family member.
24. Is travel insurance included? And is it recommended?
Travel insurance is not included in our tour price. Absolutely, we recommend that you seek the assistance of a qualified insurance broker to buy travel insurance which covers personal liability, cancellation, curtailment and loss of luggage and personal effects.
25. How to change or cancel my reservation?
You can change or amend your schedule in advance or during your trip but surcharge maybe applied according to our contract with local suppliers, hotels and airlines. Regarding cancelation terms, please check out this link: https://asiatravelandleisure.com/terms-conditions.html
WANT TO ASK A QUESTION?
Above Price Included
4 Flights: Hai Phong – Danang, Danang – Saigon, Can Tho – Phu Quoc, Phu Quoc – Saigon
Luxury 5* accommodations
2 day/ 1 night cruise package on Halong Bay
Private tours, transfers and all services as mentioned in the itinerary
Services of private drivers and air-conditioned vehicles
Service of English speaking guides in every location
Entrance fees for all mentioned sights visited
Meals as mentioned in the itinerary.
Above Price Excluded
International flights into and out Vietnam
Meals other than those mentioned in the itinerary
Early check-in and late check-out at hotels
Personal expenses (such as laundry, telephone, drinks, etc.)
Tips for guides and drivers
Travel insurance
Vietnam Visa fee (more at www.travelvietnam.com/visa).
Vietnam Tours are private and depart daily. Vietnam Tours can organize any additional accommodation.
Call us on +8424 3942 9444 to speak to one of our experts or click here to request a quote.