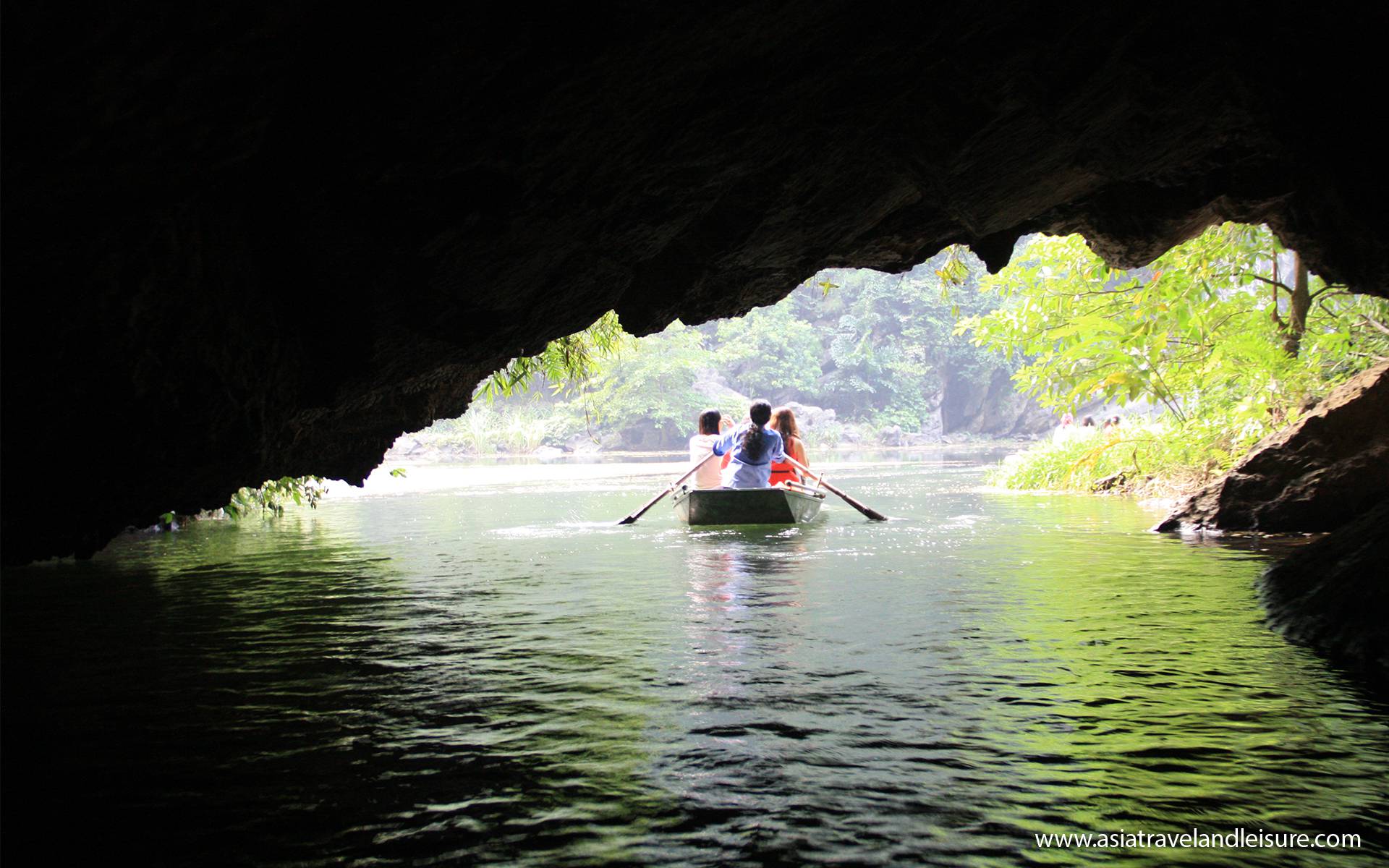 Explore Vietnam on an in-depth journey that takes you from North to South. Start with the colonial charm of Vietnam's capital, Hanoi, then travel to the natural wonderland of Lan Ha Bay and amazing caves in Quang Binh. Visit the ancient capital Hue and bask on the beaches of Hoian. Explore the lush landscape of the Mekong Delta and the bright lights and urban bustle of Saigon. This Vietnam Revealed tour takes you deep into our beautiful country, immersing you in our rich culture and elegant landscapes.

Vietnam Revealed - 13 Days

-

Vietnam Tours
Start city: Hanoi (Vietnam)
Finish city: Ho Chi Minh City (Vietnam)
Duration: 13 Days & 12 Nights
Departure: Private Tour. Daily, upon your request.
Cities to visit: Hanoi - Hai Phong - Halong Bay - Ninh Binh - Quang Binh - Hue - Hoi An - Ho Chi Minh City - Ben Tre (Mekong Delta)
- Extendable with optional tours from Hanoi (Vietnam) and from Ho Chi Minh City (Vietnam)
Tour Highlights
Visit Vietnam's elegant Hanoi Capital
Overnight on luxury cruise along Halong Bay - the World Heritage Site
Explore Hai Phong Port City
Discover Ninh Binh with Asia's largest pagoda and Trang An complex
Explore Paradise Cave in Quang Binh
Take a fascinating tour of the Vinh Moc Tunnels in the Vietnam DMZ
Visit tomb of Emperor Khai Dinh, Imperial Citadel in Hue
Experience Hoi An Ecotour on Basket Boat and Buffalo ride
Tour the bustling Saigon, Vietnam's financial hub
Take a sampan to witness Mekong Delta's daily life.
BRIEF & PRICE
ITINERARY
TOUR MAP
FAQs
BRIEF & PRICE
PRIVATE TOUR COST: Prices are quoted in US dollars per person double occupancy.
ITINERARY
Day 1: Hanoi Arrival.
Welcome to Hanoi, Vietnam's bustling colonial capital. Your driver and guide will meet you outside the baggage claim of Noi Bai International Airport and take you to your hotel located in the city center. Enjoy the rest of the day at your leisure.
Tip: In the evening, you may wish to take a peaceful stroll around Hoan Kiem Lake (Lake of the Restored Sword), a pretty lake steeped in Arthurian-style legend. On weekends traffic around Hoan Kiem Lake is closed off and the area is transformed into a pedestrian space. But this pedestrian area is so much more than just a haven from the chaos of everyday traffic; it is an important community space. You can find families and couples out for a leisurely stroll, musicians performing to crowds, children (and adults) cruising around on two-wheeled hoover boards or roller skates. It is lively and a great feeling!
Meals: N/A.Accommodation: Hotel in Hanoi.

Day 2: Hanoi City Tour.
Today you have a full day to explore Vietnam's charming capital; with its wide tree-lined boulevards, french colonial architecture, peaceful lakes and ancient oriental pagodas. Hanoi is an eclectic mix that offers something for everyone. Your city tour will take you to Hanoi's key sites: the Ho Chi Minh Complex (Ho Chi Minh's Mausoleum and stilt house), the nearby One Pillar Pagoda; the Presidential Palace; the Temple of Literature; the Quan Thanh Temple, the tranquil Tran Quoc Pagoda, West Lake; and your choice of one of the city's museums (either the History Museum or the Ethnology Museum). Enjoy a late afternoon traditional Water Puppet Performance – a unique Vietnamese Art form hailing from Southeast Asia's wet-rice culture.
Meals: Breakfast.
Accommodation: Hotel in Hanoi.

Day 3: Hanoi – Hai Phong – Overnight on cruise on Halong Bay.
Following breakfast, enjoy a short drive to Hai Phong where you will board the Orchid Cruises on an enchanting journey throughout the beautiful Ha Long Bay. On arrival, the welcome drinks, cruise briefing and safety instructions are delivered by the cruise manger followed by your cabin check in. The uniquely designed itineraries allow you to experience the less traveled routes that other cruises simply don't reach. Apart from exploring the natural beauty of many islets in a leisure pace, the today program also includes more activities such as kayaking on the vast sea, cooking class onboard to challenge your skills in preparing a very famous Vietnamese dish. All fresh seafood meals are on-house as well.
Meals: Breakfast, Lunch, Dinner.
Accommodation: on cruise.

Day 4: Hai Phong – Ninh Binh.
Wake up to fresh coffee, doing taichi before cruising back to the shore. En route the junk weaves through impressive rock formations where the Dark & Bright Cave is situated. After having a brunch, disembark to head back to Hai Phong City which is not only famous as a major industrial port city but there is also enormous potential for tourism. It preserved many architectural delights, including traditional architecture such as pagodas, temples and French neoclassical architecture of the old neighborhood. Once you reach Hai Phong, start the city tour with the Opera Theatre, also called Municipal Theatre, one of three theatres built by the French in Vietnam, the cultural structure typical of Port City. Next, visit Flower Stall & Le Chan Statue - one of the female generals under the command of the Trung Sisters (Hai Ba Trung) rose against Chinese rule in the year 43 C.E. Walk along the tree lined streets of this beautiful city for the orientation. Conclude your half day city tour of Hai Phong at Du Hang Pagoda, the ancient architecture originated during the Early Le dynasty. Admire the many valuable Buddha statues, horizontal lacquered boards and parallel sentences bearing the art style of the Nguyen dynasty.
Later in the afternoon, take a scenic drive to Ninh Binh. Along the way, break your trip to take photographs of local villages and the surrounding landscape. On arrival, check in the hotel and relax then.
Meals: Brunch.
Accommodation: Hotel in Ninh Binh.

Day 5: Ninh Binh Discovery – Night train to Quang Binh.
Start the discovery the region with Bai Dinh Pagoda which is a bombastic Buddhist complex, built on a vast scale, that rises up a hillside near Ninh Binh. Construction was completed in 2014, and it's now a huge attraction for domestic Vietnamese tourists. The entrance leads to cloistered walkways past 500 stone arhats (enlightened Buddhists) lining the route to the main triple-roofed Phap Chu Pagoda. This contains a 10m, 100-tonne bronze Buddha, flanked by two more gilded Buddha figures.
Steps behind lead to a viewpoint, a 13-storey pagoda and a giant Buddha. The compound's central area features more temples, including one showcasing a 36-tonne bell, the largest in Vietnam. Most structures use natural materials, and the complex's impressive bronzework, lacquerwork and stone-carving was crafted by local artisans.
After lunch enjoy a leisurely cruise to visit Trang An, a nature reserve similar to Tam Coc, however, less crowded. Trang An is a complex of cultural, historical and natural heritage sites, recognized by UNESCO in 2014, as the world's first mixed heritage of Vietnam. Limestone hills surround a peaceful river which passes through a series of caves (one which takes 15-minutes to pass through in darkness). It is an "eco-tourism" area; the only interruptions here are the sound of birds and the gentle paddle of the oar upon the crystal clear river. Transfer back to the hotel for refreshment.
Late evening transfer to the railway station for the train to Dong Hoi – Quang Binh. Overnight on a shared 4 berths cabin with A/C.
(If you don't want to share cabin with the other passengers, please let us know to book a whole four berths cabin or a cabin with two berths. Surcharge is applicable)
Meals: Breakfast, Lunch.
Accommodation: Soft Sleeper Cabin with AC.

Day 6: Quang Binh Discovery.
Welcome to Quang Binh, a province on the North Central Coast of Vietnam. On arrival in Dong Hoi station this morning, your driver and tour guide will meet you and drive to the hotel for the early check in.
After having a short break and breakfast at the hotel, start your promising exploration by heading to Paradise Cave (or Dong Thien Duong), in the Phong Nha – Ke Bang National Park, a UNESCO-recognized World Natural Heritage Site, opened to the public in 2010. You will have a chance to see one of the larger and most impressive accessible caves in the area. You will see the large entrance of this cave after climbing 524 stairs. Descend into the cave on a wooden walkway, made to protect and preserve the fragile cave formations. This walkway continues for 1 km through the enormous, well lighted cave.
Then the trail traverses the dense forest along the sparkling waters of the Chay River and the Nuoc Mooc spring. This river comes from an underground cave. The water is a striking light blue color, and the temperature stays at a constant 19°C. You may admire the birds, butterflies, dragonflies or endangered monkeys and also refresh yourselves at a delightful swimming area.
Have lunch at a local restaurant with a beautiful view on the nearby lake and the pine forest. Take the short drive along the strategic Ho Chi Minh trails and got brief information of the Wars from the local guide before getting back to hotel.
Meals: Breakfast, Lunch.
Accommodation: Hotel in Quang Binh.

Day 7: Quang Binh – Hue.
After breakfast, head off for Hue via Quang Tri with some visits and short breaks en route. You will go through the DMZ, where some of the bloodiest battles were fought during the American War. Late morning, take a fascinating tour of the Vinh Moc Tunnels kept as a monument to the determination of the Vietnamese to continue living in their traditional village areas. Whole villages moved underground and lived in these tunnels and caverns. Visit Hien Luong Bridge and museums containing photographs and memorials of the war. Continue on and cross the Ben Hai River, used to demarcate the division between North and South Vietnam. Have lunch in a local restaurant in Dong Ha Town and drive to Hue with a stop at a small church showing the signs of mortar attack in the area. On arrival, check into your hotel.
Meals: Breakfast.
Accommodation: Hotel in Hue.

Day 8: Hue City Tour.
Begin your day by boarding the local traditional boat cruising along the peaceful Perfume River, taking in the endless surrounding greenery. Disembark to visit Thien Mu pagoda, the symbol of Hue city then continue with a stop at Noon gate of Imperial Citadel for the walking tour to the inner area of the citadel where the Nguyen Dynasty ruled between 1802 and 1945 including Flag Tower, Noon Gate, Nine Dynastic Urns, Nine Holy Cannons, Thai Hoa Palace, and Forbidden Purple City.
In the afternoon, transfer to the tomb of Emperor Khai Dinh to admire the unusual combination of architecture that blends a traditional Chinese past with a modern Western future. Follow it with a visit to Thuy Xuan incense village, one of the last villages preserving the traditional profession, the elegant beauty of the old Capital. Conclude the day with a transfer back to the hotel where you will have time for leisure.
Meals: Breakfast.
Accommodation: Hotel in Hue.

Day 9: Hue – Danang – Hoian.
After breakfast, drive to Hoian. Stop en route in Lang Co Bay, a long white-sand beach with blue seawater which offers great view of a peaceful fishing village with boats sailing in Lap An lagoon and flocks of storks flying back to their nests at dusk. Pass over the epic Hai Van pass or Pass of the Cloud, a spectacular mountain pass between Hue and Hoian, with views of the East Vietnam Sea on one side and the lush mountainous landscape on the other. Visit Cham Museum and handicraft villages at the foot of Marble Mountain in Danang before arriving in Hoian, the sleepy riverside town in the early afternoon. Check in to the hotel and then have a short break.
Later, join us on a walking tour around this charming ancient town with its great fascinate architecture. You will be amazed by the Old Japanese covered bridge, Chinese assembly hall and of course the ancient houses where you will meet and chat with the local people who share their life experience.
Meals: Breakfast
Accommodation: Hotel in Hoian.

Day 10: Hoi An Eco Tour.
* ROWING BASKET BOAT & RIDING BUFFALO 3 HOURS
8:00 AM: Pick up at hotel.
Get a chance to ride on buffalo that has been trained and tamed quite well. Buffalo man and guide will escort you along the tour so that you have lot of funny experienced ride both in the field and even on the water. Ending your buffalo part, you will be driven by van to a nearby local fishing village where you board on the boat and you will be welcomed by crews to continue to the next part to ride "Thung Chai" - Basket Boat/ Round Boat. Your local guide will tell you about the use of basket boat used by local fishermen and how to paddle the round boat not get rounded is big tip to learn. There are a few techniques but the best way to steer is with the figure out of the number eight to make it go. One of the most amazing part on this trip is that fact that you can enjoy an unique performance by "Thung Chai" on the river run by the crews. It is so funny and exciting to enjoy it. After that, you will be given with life jacket, safety instruction with your hands kept inside, camera, cell phone, wallet, sunglasses etc. must be kept on your big boat before getting down your small basket boat.
Return to the hotel in the late afternoon and enjoy the free evening at your leisure.
Meals: Breakfast.
Accommodation: Hotel in Hoian.

Day 11: Hoian – Danang – Fly to Saigon.
Have breakfast at the hotel then drive to the airport to catch your flight to Vietnam's modern metropolis: Saigon (Ho Chi Minh City). Arrive in the late morning and enjoy an orientation tour through Ho Chi Minh City's bustling streets en route to the hotel. Have lunch at a downtown restaurant of your choosing then set out on a guided city tour. In the afternoon you will visit such sites as the Reunification Palace, the War Remnants Museum, Notre Dame Cathedral, the City Post Office and Ben Thanh Market. Enjoy the rest of the day at your leisure.
Meals: Breakfast.
Accommodation: Hotel in Saigon.

Day 12: Saigon – Mekong Delta (Ben Tre) – Saigon.
Today you spend a day away from the busy city of Saigon and drive to Ben Tre Province. Visit Vinh Trang Pagoda, an ancient southern architectural gem in Tien Giang en route. On arrival at Hung Vuong Pier, board on your private boat for a glimpse at the delta scenery while enjoying coconut juice. Experience the unique lifestyle of the Mekong Delta as you visit fruit orchards, coconut groves, brick workshops, and home-made products such as coconut candies, rice cakes, handicrafts etc. After a short walk to visit a local family to learn how they make sedge mat and enjoy tea, tropical fruits, take "Xe Loi", a kind of motorized rickshaw or you can hop onto your bicycle and peddle through picturesque villages (about 20 minutes). Stop at a riverside restaurant for a delicious and filling lunch. Then board a sampan for a relaxing trip along narrow canals. The boat will be waiting for you at the pier nearby to bring you back to Ben Tre where your car will drive back to Saigon for your onward flight.
Meals: Breakfast, Lunch.
Accommodation: Hotel in Saigon.

Day 13: Saigon Departure.
Have breakfast at hotel then enjoy a free morning before driving to the airport to catch your departure flight home. Your "Vietnam Revealed" tour package finishes.
Meals: Breakfast.
Accommodation: N/A.
TOUR MAP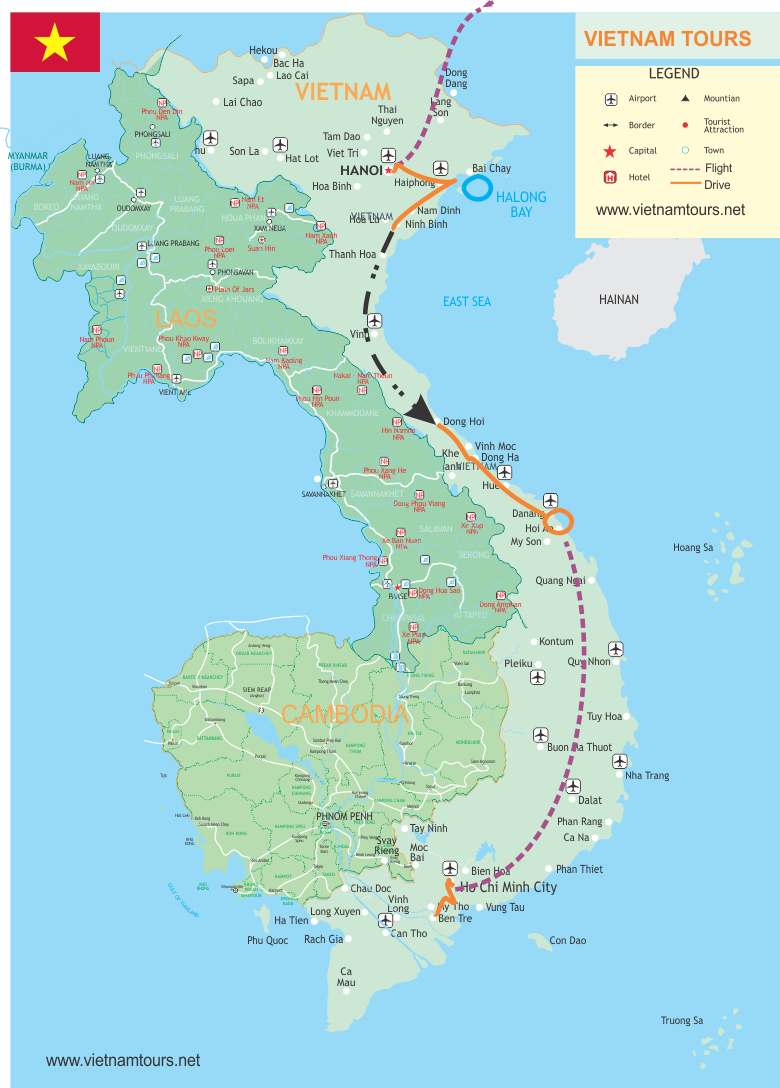 FAQs
1. Are tour dates flexible?
Yes, this tour package is private and you can depart on any dates at your convenience.
2. Can I extend or change my stay?
Absolutely! Extra days can be arranged in most areas if desired. Let us know how you would like to customize your trip and we will do our best to accommodate you. You can ask helps from our travel consultant to amend or extend your stay (subject to availability of hotels and flights; surcharge may be applicable).
3. Are the rates displayed per person or per room?
The prices shown on our website are per person based on twin/ double accommodation.
4. Any surcharges if my travel dates are during Christmas or New Year Holidays?
The rates are regular price and they are not included a compulsory dinner (Gala dinner) on the day of Christmas or New Year Eve. Surcharges depend on specific hotels you stay at, so our travel consultants will give further information to you in communications.
5. Are there any discounts available?
We offer select trip discounts periodically throughout the year, especially in the low season (Summer time in Vietnam is from May to Sep). Please contact our travel consultants to get more details.
6. How do I pay when I want to book this tour?
We accept payment by debit/ credit card (Visa, Master, Amex), cash and bank transfer. When you confirm a booking with us, we will send you our online payment link or bank details to deposit 30% of the total tour cost. The balance will be due as soon as you arrive in Cambodia. Our travel consultants will give more details via email about payment instruction.
7. Are meals included?
We have tried to balance flexibility and convenience regarding meal options. This tour package includes daily buffet breakfast at hotels and some lunches or dinners as listed in parenthesis next to the tour itinerary on each day tour. In the major cities, where there are a wide variety of restaurants, we generally do not include meals to allow our travelers the flexibility of choosing their own food preferences. Our tour guides can recommend some options for our clients to choose from according to traveler's interest & budget.
8. What type of food is typical of Vietnam?
Vietnamese cuisine is quite varied from the North to the Centre and to the South, having had many external influences over the years that have created an interesting mix of cooking methods and ingredients. French presence in the recent past has led to the assimilation of French cuisine influence, and is often attributed with Pho noodle soup's rise to popularity. Most meals include rice, as well as fish sauce which is a popular condiment added to almost every meal throughout the country.
9. What if I have a special request on food?
You just need to share us your request on type of foods, we will choose a right restaurant and order suitable menus for you.
10. What are the accommodations like?
Vietnam Tours only recommends good hotels rated from 3 stars to luxurious resorts. They are located within walking distance of the town center and the reception generally speaks English. For more information, check with your travel consultants to view pictures of our suggestion on standard hotels/ lodges/ resorts. Don't forget that you can give your favorite name of hotel brands to us, so we can get your concept.
11. What type of transportation is used?
Our Vietnam tours utilize a variety of primarily private transportation (arranged just for your groups) including new and modern vans/ cars, motor boats, etc. We use a mix of private (vans/ cars)/ public transportation (domestic flights, sharing cruises, trains) to provide travelers with the safest and most efficient transit in each area.
12. Is this tour suitable for kids?
Yes! If you have children traveling with, ask your travel consultants to customize the tour program to fit a variety of interests and ages. We also focus on family friendly vacations with less travel and minimum drive times and maximum in-country activity that will keep younger minds engaged.
13. How many people are typically on your tours?
We only offer completely private tours, so only the people you book for will be on the tour. If you are alone, it will just be you and your guide. If you are a couple, just the two of you and your guide, and so on. We believe this is the best type of tour, so that it can be personalized to you, go at your own pace, and so that you can have the full attention of your guide for the duration of the tour.
14. Is this trip a good choice for solo travelers?
Yes, it is. You will still have a private tour guide and driver to accompany throughout the journey. However, you have to cover all expenses regarding accommodations (single room), tour guides, transportations because no-one shares cost with.
15. Do tour rates include international flights?
This tour only includes domestic flights. We find that it is usually less expensive for travelers to book these separately and this also allows you the flexibility to choose the schedule and routing that is most convenient for you. You can purchase international flights on your own, or we can certainly help you arrange these flights with an airfare consolidator who specializes in international flights.
16. How do I get to the hotel from the airport when I arrive?
When you arrive at airports, you will be greeted with your name on our driver/ tour guide's welcome sign, then get transferred to your hotel.
17. How if bed weather such as storm, flood, landslide occurs during my holiday with Vietnam Tours?
Our Travel Consultants and Tour Operators keep checking weather forecast every-day, if the weather is bad and it may affect to your safety, we will discuss with you regarding a tentative program immediately.
18. How much should I budget for tips?
Tips are not compulsory on any of our tours. However, it is customary to offer a small tip for exceptional service. Other travelers opt to bring small souvenirs from their home to give to tour guides and drivers along the way.
19. Is travel insurance included? And is it recommended?
Travel insurance is not included in our tour price. Absolutely, we recommend you to contact with your local agent in your country to buy travel insurance before you go.
20. How to change or cancel my reservation?
- You can change or amend your schedule in advance or during your trip but surcharge maybe applied according to our contract with local suppliers, hotels and airlines. Regarding cancelation terms, please check out this link: https://asiatravelandleisure.com/terms-conditions.html
WANT TO ASK A QUESTION?
Above Price Included
1 Domestic Flight Danang – Saigon
Accommodation with daily breakfast at selected hotels
Private tours, transfers and all services as mentioned in the itinerary
Services of private drivers, boats and air-conditioned vehicles
Service of English speaking guides as indicated in the itinerary
Entrance fees for all mentioned sights visited
Meals as mentioned in the itinerary.
Above Price Excluded
Travel insurance
Flights into and out Vietnam
Vietnam Visa fee
Tipping and other personal expenses.
Vietnam Tours are private and depart daily. Vietnam Tours can organize any additional accommodation.
Call us on +8424 3942 9444 to speak to one of our experts or click here to request a quote.