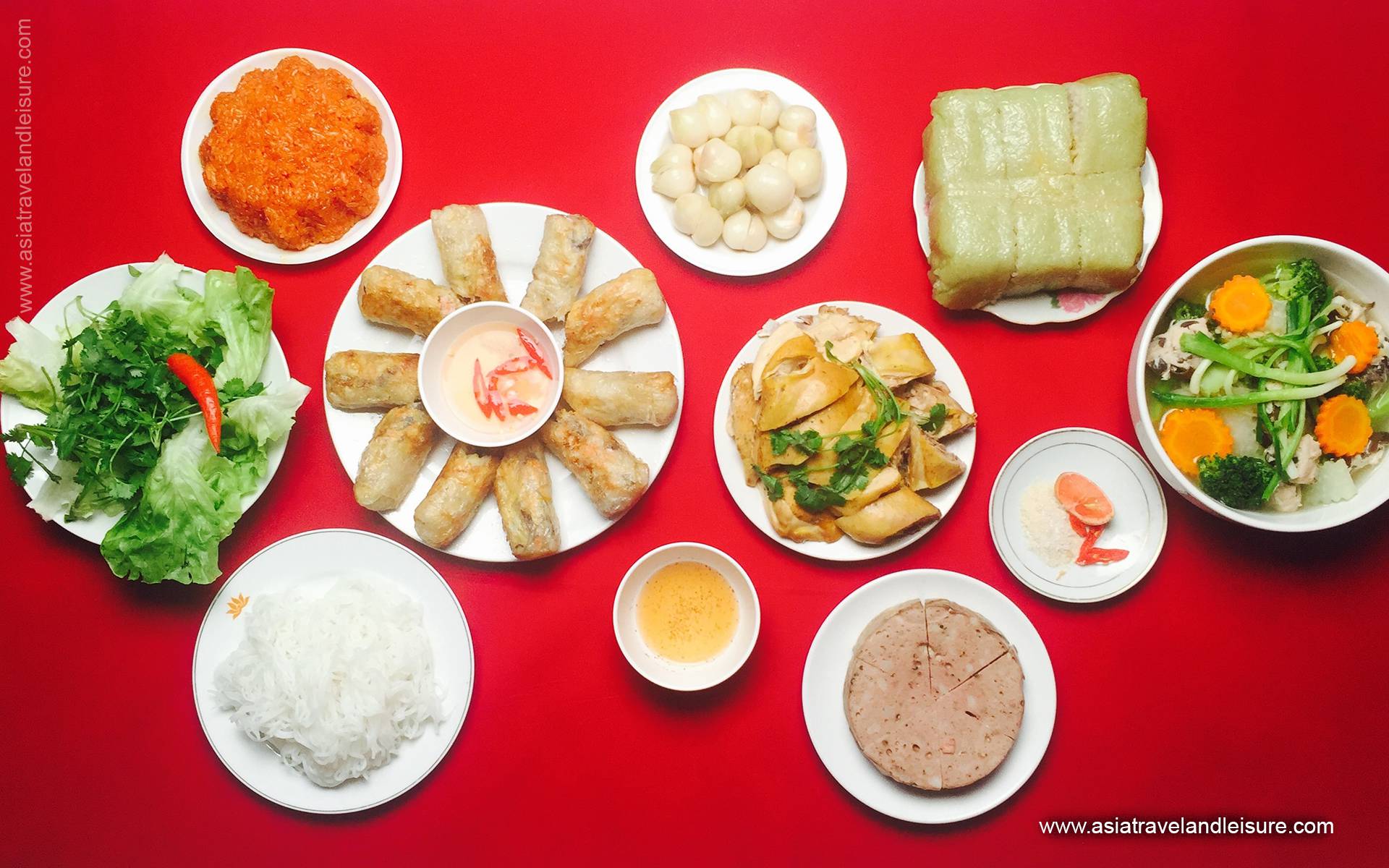 There are dozens of cooking classes available in Hoian and which one you should choose simply depends on preference. Some are held in restaurants in town, with an abridged crash course that take as little as an hour, while others are drawn out into day-long affairs combined with a motor biking, cycling or boating to fishing villages and herb gardens. Do you want a class in town or a rural setting? A restaurant or a home? Does it include a fresh market tour? Do you prefer demonstration style or really getting hands-on, doing all the prep yourself? Want to learn the popular dishes or something that requires a more adventurous palate and dexterous culinary skills? One thing is for sure: you won't leave hungry.
Hoian Cooking Tour

-

Vietnam Tours
Start city: Hoi An (Vietnam)
Finish city: Hoi An (Vietnam)
Duration: 1/2 day
Departure: Daily, upon your request.
Cities to visit: Hoi An
- Extendable with optional tours from Hoi An (Vietnam)
Tour Highlights
Explore the local market and buy ingredients by yourself
Leisure boat trip along Hoian River to your cooking class
Choose and cook the special Hoian food with an experienced chef
Sample your creation.
BRIEF & PRICE
ITINERARY
TOUR MAP
FAQs
BRIEF & PRICE
PRIVATE TOUR COST: Prices are quoted in US dollars per person double occupancy.
ITINERARY
VIETNAM TOURS would love to recommend you some best cooking classes in Hoian Town:1. Classes concentrate on local recipes including "Cao Lau" and "white rose" (banh vac: a delicate, subtly flavored shrimp dumpling topped with crispy onions)
We visit Hoi An's colourful and bustling central market by boat in small groups with an English speaking tour guide where participants learn about; the uses of different fresh noodles, how to recognize and buy fresh fish, fresh and dried spices, fresh herbs and their uses in our recipes and medicinal purposes, rice and different grains. You will also see and taste many exotic fruits.
We then return to cooking class by boat where you will be guided around the many live food counters in this unique first-of-its-kind interactive dining venue in Vietnam. Here you can see, smell, hear, taste, touch and interact with many different food making processes. You can try samples from over 10 different food counters including banh mi, dumplings, pickles, weird & wonderful foods, our rationing foods in Vietnam that were in place for 45 years, sweet treats and many more. You can see rice paper being made from ground rice and water, laid out to dry on bamboo and then later roasted for rice crackers to eat with Hoi An chilli sauce and salads, various shapes and sizes of rice noodles. Experience our famous local noodle dish Cao Lau, see the noodles rolled out by hand and cut in the traditional way with a long knife and then steamed over an open fire. You may participate in many of the street food counters; cutting noodles, making rice paper and wontons, using the bun noodle machine and more.
The cooking lesson runs about 2.5 hours – our cooking teachers first demonstrate each dish before you prepare the same dishes yourselves. After the lesson we all sit down and eat what we have cooked. You will receive a copy of the recipes and a Vietnamese cooking utensil to take home.
2. Another well-rated restaurant-cooking school with classes taking place at their beautiful riverside villa or a quickie class at coffee house in town. The classic half-day program includes market tour and boat ride to their location. A sample detail program as below:
Meet at the Cafe in Hoian's Old Town. From there we will head to Hoian's colorful market. Explore the market and interact with local vendors to purchase some fresh ingredients for today's cooking class. Next, board the boat for a leisurely 25min cruise along the Hoian River to the Cooking School. Discover the school's herb and vegetable garden. Learn to cook and help prepare five traditional dishes to enjoy for lunch. You will also be entertained and taught some special techniques at the fruit and vegetable carving demonstration.
3. For a homier experience
, you can't go wrong with our third recommendation, a small class held in the lcoal's own kitchen. She's great and if you have kids she is exceptional. The class differentiates itself by being held in a real family home (where you are instantly embraced as a treasured relative) and by having every participant choose one dish from an extensive menu of 68, then you learn to make your dish as a group.
Kindly contact our travel consultants to check the availability and best rate for your favorite cooking class in Hoi An.
TOUR MAP
FAQs
1. Is tour date of "Hoian Cooking Tour" flexible?
Yes, this tour package is private and you can depart on any dates at your convenience.
2. Can I extend or change my stay?
Absolutely! Extra days can be arranged in most areas if desired. Let us know how you would like to customize your trip and we will do our best to accommodate you. You can ask helps from our travel consultant to amend or extend your stay (subject to availability of hotels and flights; surcharge may be applicable).
3. Are the rates displayed per person or per room?
The prices shown on our website are per person based on twin/ double accommodation.
4. Any surcharges if my travel dates are during Christmas or New Year Holidays?
The rates are regular price and they are not included a compulsory dinner (Gala Dinner) on the day of Christmas or New Year Eve. Surcharges depend on specific hotels you stay at, so our travel consultants will give further information to you in communications.
5. Are there any discounts available?
We offer select trip discounts periodically throughout the year, especially in the low season (Summer time in Vietnam is from May to Sep). Please contact our travel consultants to get more details.
6. How do I pay when I want to book this tour?
We accept payment by debit/ credit card (Visa, Master, Amex), cash and bank transfer. When you confirm a booking with us, we will send you our online payment link or bank details to deposit 30% of the total tour cost. The balance will be due as soon as you arrive in Cambodia. Our travel consultants will give more details via email about payment instruction.
7. Are meals included?
We have tried to balance flexibility and convenience regarding meal options. This tour package includes daily buffet breakfast at hotels and some lunches or dinners as listed in parenthesis next to the tour itinerary on each day tour. In the major cities, where there are a wide variety of restaurants, we generally do not include meals to allow our travelers the flexibility of choosing their own food preferences. Our tour guides can recommend some options for our clients to choose from according to traveler's interest & budget.
8. What type of food is typical of Vietnam?
Vietnamese cuisine is quite varied from the North to the Centre and to the South, having had many external influences over the years that have created an interesting mix of cooking methods and ingredients. French presence in the recent past has led to the assimilation of French cuisine influence, and is often attributed with Pho noodle soup's rise to popularity. Most meals include rice, as well as fish sauce which is a popular condiment added to almost every meal throughout the country.
9. What if I have a special request on food?
You just need to share us your request on type of foods, we will choose a right restaurant and order suitable menus for you.
10. What are the accommodations like?
Vietnam Tours only recommends good hotels rated from 3 stars to luxurious resorts. They are located within walking distance of the town center and the reception generally speaks English. For more information, check with your travel consultants to view pictures of our suggestion on standard hotels/ lodges/ resorts. Don't forget that you can give your favorite name of hotel brands to us, so we can get your concept.
11. What type of transportation is used?
Our Vietnam tours utilize a variety of primarily private transportation (arranged just for your groups) including new and modern vans/ cars, motor boats, etc. We use a mix of private (vans/ cars)/ public transportation (domestic flights, sharing cruises, trains) to provide travelers with the safest and most efficient transit in each area.
12. Is this tour suitable for kids?
Yes! If you have children traveling with, ask your travel consultants to customize the tour program to fit a variety of interests and ages. We also focus on family friendly vacations with less travel and minimum drive times and maximum in-country activity that will keep younger minds engaged.
13. How many people are typically on your tours?
We only offer completely private tours, so only the people you book for will be on the tour. If you are alone, it will just be you and your guide. If you are a couple, just the two of you and your guide, and so on. We believe this is the best type of tour, so that it can be personalized to you, go at your own pace, and so that you can have the full attention of your guide for the duration of the tour.
14. Is this trip a good choice for solo travelers?
Yes, it is. You will still have a private tour guide and driver to accompany throughout the journey. However, you have to cover all expenses regarding accommodations (single room), tour guides, transportations because no-one shares cost with.
15. Do tour rates include international flights?
This tour only includes domestic flights. We find that it is usually less expensive for travelers to book these separately and this also allows you the flexibility to choose the schedule and routing that is most convenient for you. You can purchase international flights on your own, or we can certainly help you arrange these flights with an airfare consolidator who specializes in international flights.
16. How do I get to the hotel from the airport when I arrive?
When you arrive at airports, you will be greeted with your name on our driver/ tour guide's welcome sign, then get transferred to your hotel.
17. How if bad weather such as storm, flood, landslide occurs during my holiday with Vietnam Tours?
Our Travel Consultants and Tour Operators keep checking weather forecast every-day, if the weather is bad and it may affect to your safety, we will discuss with you regarding a tentative program immediately.
18. How much should I budget for tips?
Tips are not compulsory on any of our tours. However, it is customary to offer a small tip for exceptional service. Other travelers opt to bring small souvenirs from their home to give to tour guides and drivers along the way.
19. Is travel insurance included? And is it recommended?
Travel insurance is not included in our tour price. Absolutely, we recommend you to contact with your local agent in your country to buy travel insurance before you go.
20. How to change or cancel my reservation?
- You can change or amend your schedule in advance or during your trip but surcharge maybe applied according to our contract with local suppliers, hotels and airlines. Regarding cancelation terms, please check out this link: https://asiatravelandleisure.com/terms-conditions.html
WANT TO ASK A QUESTION?
Above Price Included
Local English speaking guide/ chef
Private transfers from and to a hotel in the town
Meal.
Above Price Excluded
Travel insurance
Tipping and other personal expenses.
Vietnam Tours are private and depart daily. Vietnam Tours can organize any additional accommodation.
Call us on +8424 3942 9444 to speak to one of our experts or click here to request a quote.