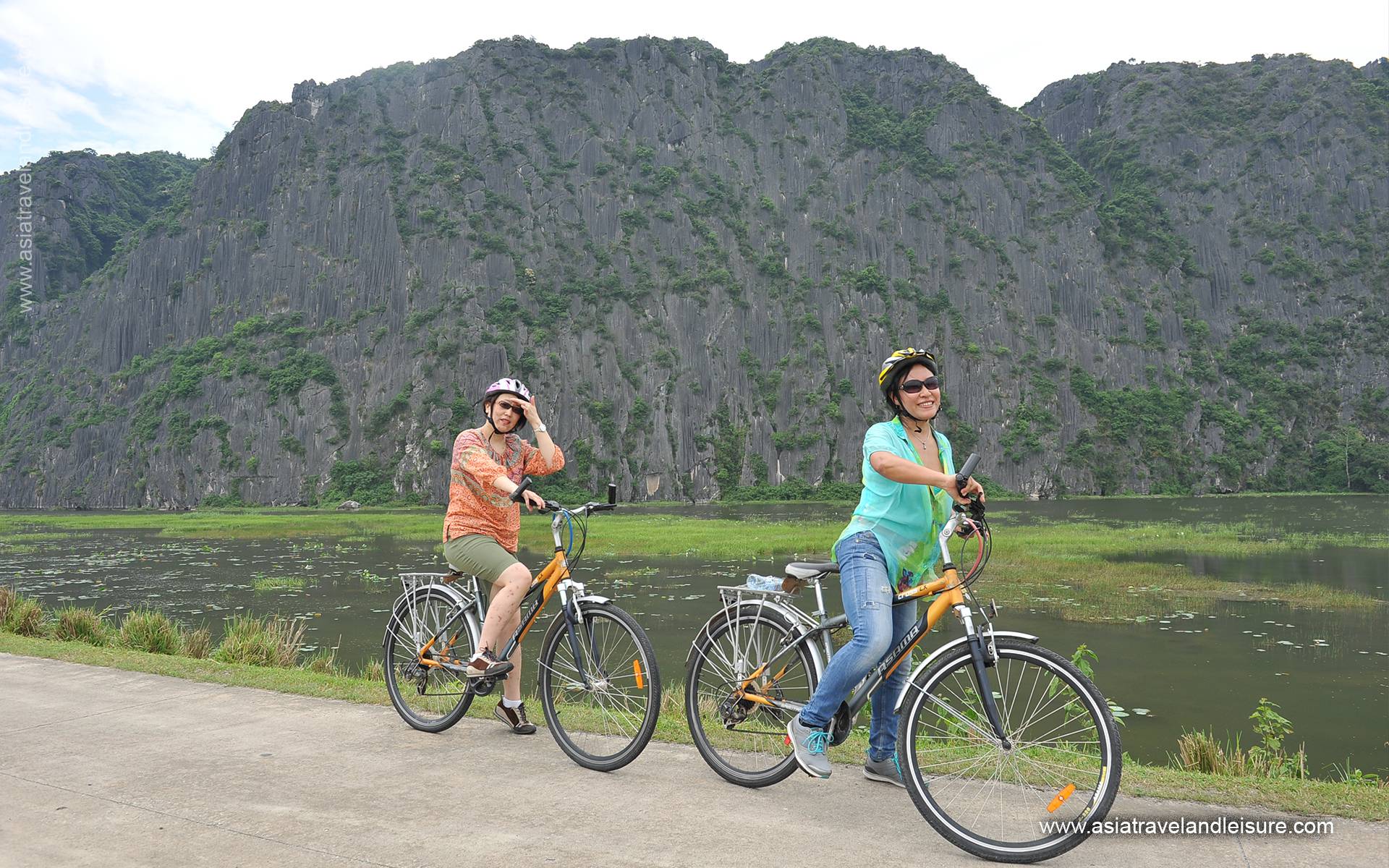 This 9-day journey invites you to discover all the sites where the famous movie "Kong: Skull Island" was casted: Halong Bay, Ninh Binh and Quang Binh. More than seeing the landscapes in the film, you will visit the capital city of Hanoi, enjoy all comfortable accommodation and the luxury cruise on the Bay. During this adventure you will meet with local people and taste the finest local cuisine.
Discover "King Kong" Land - 9 Days

-

Vietnam Tours
Start city: Hanoi (Vietnam)
Finish city: Nha Trang (Vietnam)
Duration: 9 Days & 8 Nights
Departure: Private Adventure Tour. Daily, upon your request.
Cities to visit: Hanoi - Halong Bay - Ninh Binh - Quang Binh
- Extendable with optional tours from Hanoi (Vietnam) and from Nha Trang (Vietnam)
We reserve the right to deviate from this itinerary for any reasons, including road and weather conditions, frequency of visits to a village, or for any other factor which may influence client safety.
Tour Highlights
Overnight on Halong Bay cruise
Enjoy a leisure sampan to visit Trang An complex, the world's first mixed heritage of Vietnam
Explore the Home of Kong Skull Island Movie, Tu Lan Cave system in Quang Binh
Beach relax in the end of the trip.
BRIEF & PRICE
ITINERARY
TOUR MAP
FAQs
BRIEF & PRICE
PRIVATE TOUR COST: Prices are quoted in US dollars per person double occupancy.
ITINERARY
Day 1: Hanoi Arrival.

Welcome to Hanoi, Vietnam's bustling colonial capital. Your driver and guide will meet you outside the baggage claim of Noi Bai International Airport and take you to your hotel located in the city center. Enjoy the rest of the day at your leisure.
Meals: N/A.Accommodation: Hotel in Hanoi.

Day 2: Hanoi City Tour.
Today you have a full day to explore Vietnam's charming capital; with its wide tree-lined boulevards, French colonial architecture, peaceful lakes and ancient oriental pagodas. Hanoi is an eclectic mix that offers something for everyone. Your city tour will take you to Hanoi's key sites: the Ho Chi Minh Complex (Ho Chi Minh's Mausoleum and stilt house), the nearby One Pillar Pagoda; the Presidential Palace; the Temple of Literature; the Quan Thanh Temple, the tranquil Tran Quoc Pagoda, West Lake; and your choice of one of the city's museums (either the History Museum or the Ethnology Museum). Enjoy a late afternoon traditional Water Puppet Performance – a unique Vietnamese Art form hailing from Southeast Asia's wet-rice culture.
Meals: Breakfast.
Accommodation: Hotel in Hanoi.
Day 3: Hanoi – Halong Bay – Overnight on cruise.
Your guide and driver will meet you at the hotel then set out on a 3 to 4 hour drive to the UNESCO World Heritage Site: Halong Bay. Spend 24 hours on a traditional Junk Cruise in the amazing bay: a natural wonderland composed of jutting limestone islands and sparkling turquoise waters. Arrive at the dock around noon and board the boat. Savor a gourmet lunch of fresh seafood on board as we sail out into the mystical bay. In the afternoon, cruise around some of Halong's many islands, including Dinh Huong and Ga Choi. Along the way visit one of the bay's three largest caves (Thien Cung, Dau Go or Sung Sot). Stop at an island cove with sheltered white-sand beaches. Weather permitting; take a dip in the warm waters of the Gulf of Tonkin. Pass the night on-board lulled to sleep by the gentle rocking of calm waters.
Optional: Travel Vietnam recommends the 25-minute seaplane scenic flight and cruise combination tour departing from Tuan Chau Habour. It will be a "love at first sight" as you admire Halong Bay's magnificent beauty and panoramic view from the air. Feast your eyes on more than 1,900 magnificent islands and limestone pillars. (Excluded in the tour package, contact your travel consultant to book with best offer!)
Note: The above itinerary is subject to change without prior notice and depends on weather conditions. The itinerary is a sample for our standard service on a 3 star junk/ cruise. Additional itineraries are available through our luxury cruise lines on the Ginger, Violet, Jasmine, Hera, Signature, Sealife, Au Co, Orchid or Paradise... Please contact us for more details.
Meals: Breakfast, Lunch, Dinner.
Accommodation: Overnight on cruise.

Day 4: Halong Bay – Hai Phong – Ninh Binh.
Awake early and participate in Tai Chi on the top deck or simply relax and enjoy the sunrise over the bay's towering islands. Enjoy a morning cup of coffee or tea, before setting out to explore the nearby islands by rowboat. Return to the cruise for brunch then take advantage of the sundeck and admire the amazing rock formations of Bai Tu Long Bay as you navigate back to Halong City, where your driver will meet you at the dock and transport you to Ninh Binh via Hai Phong City (about 4 hours).
Check-in to your hotel and spend the evening at your leisure.
Meals: Breakfast, Brunch & Dinner.
Accommodation: Hotel in Ninh Binh.
Day 5: Ninh Binh: Hoa Lu Ancient Town & Trang An.
After breakfast, visit ancient temples and walk up a hundred steps to the top of the mountain to enjoy a breath taking panoramic view of Hoa Lu, Vietnam's ancient capital city under the Dinh Dynasty (between 968 and 1009 AD). Some of the sanctuaries and tombs have survived the years and can still be seen today. Apart from the historical interest, the area is also one of astounding natural beauty with limestone peaks whose splendor is often said to surpass that of Halong Bay. Enjoy a leisurely cruise to visit Trang An, a nature reserve similar to Tam Coc, however, less crowded. Trang An is a complex of cultural, historical and natural heritage sites, recognized by UNESCO in 2014, as the world's first mixed heritage of Vietnam. Limestone hills surround a peaceful river which passes through a series of caves (one which takes 15-minutes to pass through in darkness). It is an "eco-tourism" area; the only interruptions here are the sound of birds and the gentle paddle of the oar upon the crystal clear river.
Meals: Breakfast, Lunch.
Accommodation: Hotel in Ninh Binh.

Day 6: Ninh Binh – Quang Binh.
After breakfast, bid farewell to Ninh Binh and head to Quang Binh, a province on the North Central Coast of Vietnam.
Check into the Sun Spa Resort, located along pristine white sand Bao Ninh Beach and on the banks of the legendary of Nhat Le River. Spend rest of the day seaside or as you wish.
Meals: Breakfast.
Accommodation: Hotel in Quang Binh.

Day 7: Quang Binh: Explore the Home of Kong Skull Island Movie (Tu Lan cave system)
Option: Tu Lan cave system (Tan Hoa – To Mo – Tan Hoa).
Operating: from November to September (closed in Oct).
Availability: Weekly- Monday and Friday.
Adventure Level: Easy (8 km) for physically active guests (swimming is necessary).
With only one day, you will have the chance to explore Tu Lan Cave System's untamed jungle & limestone mountain region. This is well-known as the home of the Hollywood blockbuster movie "Kong: Skull Island (2017)" which is listed as the best war movie of the year by ABC News.
Jordan Vogt-Roberts – the film director of Kong: Skull Island once said: "The world will pay attention because they will see how beautiful this place is; they will travel, discover and fall in love with it like the way that I did".
After early breakfast, drive 110km (~ 2 hours) via Phong Nha and over the Da Deo Mountain Pass to reach the ethnic minority village of Tan Hoa and the Oxalis Headquarters. After a safety briefing, checking gear and signing the Release Form, the day adventure begins with a 2 km walk across peanut and buffalo fields to reach the Rao Nan River.
After crossing the river you'll reach the impressive Hang Chuot (Rat Cave) to explore its massive formations for up to 280m. Return back to the river another way, then trek through Hung Ton Valley to reach Hung Ton Cave. Explore this wild cave by descending a 15 m ladder with a safety rope before swimming 50m through the cave and following an underground river to reach To Mo Valley, where a delicious BBQ lunch will be awaiting you.
After swimming at the waterfall, trek over Hung Ton Mountain (1 km), across Hung Ton Valley (500 m), and another small hill down to Rao Nan River (500m). Finish the day crossing back over peanut and buffalo fields (2.5 km) to the Oxalis Headquarter, where a cold drink and shower will be awaiting your return.
10:00, your driver will transfer you back to your resort.
This day tour is to give you a taste of Tu Lan, but if you really want the ultimate adventure we encourage you to spend the night in the jungle on our Tu Lan Cave Encounter (2 days) or add another night camping in a cave on our Wild Tu Lan Cave Explorer (3 days)!
Meals: Breakfast, Lunch.
Accommodation: Hotel in Quang Binh.

Day 8: Quang Binh – Free at leisure on beach.
Enjoy a free day as you wish! Perhaps enjoy spa treatments at the hotel or relax on a beautiful beach.
An incredible Son Doong Cave Expedition of 4 days 3 nights in Quang Binh will give you a wonderful chance to explore the world's largest cave and exit via the Great Wall of Vietnam. This is expected to be your expedition of a lifetime. Ask your travel consultant to get more information!
Meals: Breakfast.
Accommodation: Hotel in Quang Binh.

Day 9: Quang Binh – Fly to Hanoi – Departure.
Have breakfast at hotel then drive to Dong Hoi Airport to catch your flight to Hanoi's Noi Bai Airport. Your adventure ends here.
Meals: Breakfast.
Accommodation: N/A.
TOUR MAP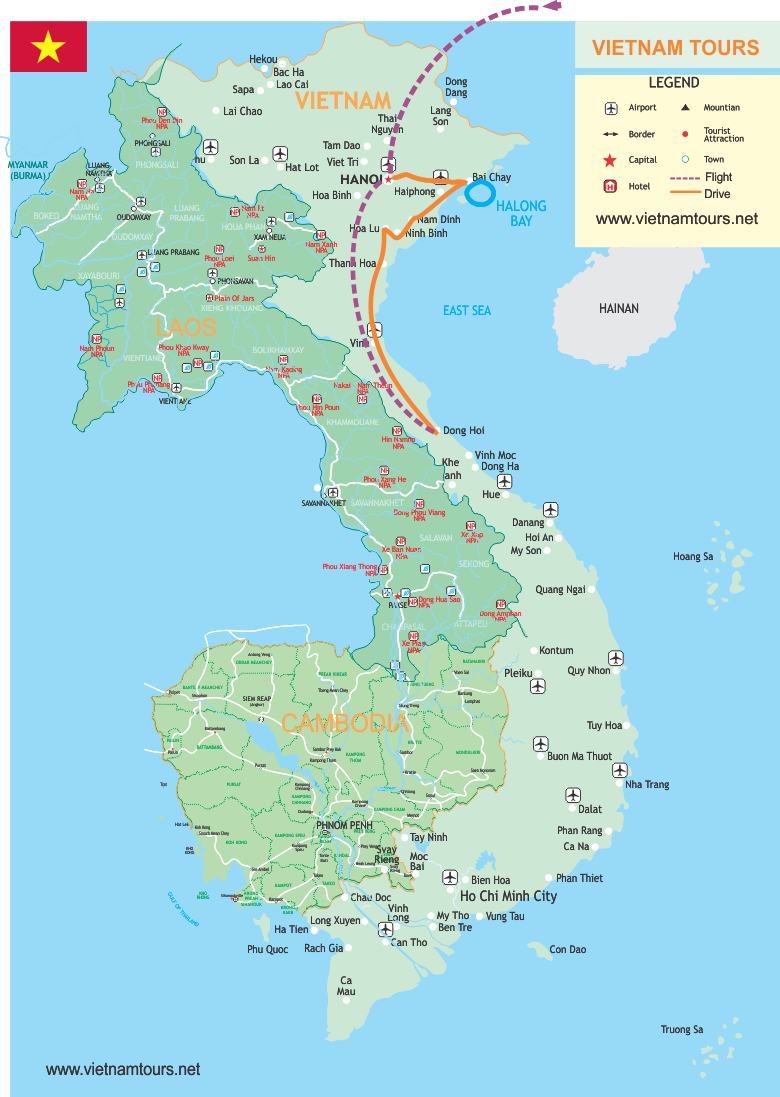 FAQs
1. Are tour dates flexible?
Yes, this adventure tour is private and you can depart on any dates at your convenience.
2. Can I extend or change my stay?
Absolutely! Extra days can be arranged in most areas if desired. Let us know how you would like to customize your trip and we will do our best to accommodate you. You can ask helps from our travel consultant to amend or extend your stay (subject to availability of hotels and flights; surcharge may be applicable).
3. Are meals included?
We have tried to balance flexibility and convenience regarding meal options. This tour package includes daily buffet breakfast at hotels and some lunches or dinners as listed in parenthesis next to the tour itinerary on each day tour. In the major cities, where there are a wide variety of restaurants, we generally do not include meals to allow our travelers the flexibility of choosing their own food preferences. Our tour guides can recommend some options for our clients to choose from according to traveler's interest & budget.
4. What type of food is typical of Vietnam?
Vietnamese cuisine is quite varied from the North to the Centre and to the South, having had many external influences over the years that have created an interesting mix of cooking methods and ingredients. French presence in the recent past has led to the assimilation of French cuisine influence, and is often attributed with Pho noodle soup's rise to popularity. Most meals include rice, as well as fish sauce which is a popular condiment added to almost every meal throughout the country.
5. What if I have a special request on food?
You just need to share us your request on type of foods, we will choose a right restaurant and order suitable menus for you.
6. What are the accommodations like?
Vietnam Tours only recommends good hotels rated from 3 stars to luxurious resorts. They are located within walking distance of the town center and the reception generally speaks English. However, in some remote or mountainous regions, we only can book you into some basic hotels/ lodges/ homestay but we will choose the most comfortable standard accommodations and clean for your stay. For more information, check with your travel consultants to view pictures of our suggestion on standard hotels/ lodges/ resorts. Don't forget that you can give your favorite name of hotel brands to us, so we can get your concept.
7. What are the guides like?
All of our tour guides are professional, helpful and friendly! They are fluent in English (or French, Spanish etc.). They are from the local areas where they guide and are among the very best guides available in each region. Our guides treat our travelers like friends, showing visitors both the major highlights and the local treasures.
8. What type of transportation is used?
Our Vietnam tours utilize a variety of primarily private transportation (arranged just for your groups) including new and modern vans/ cars, motor boats, etc. We use a mix of private (vans/ cars)/ public transportation (domestic flights, sharing cruises, trains) to provide travelers with the safest and most efficient transit in each area.
9. How difficult and flexible are trip activities?
You don't have to be a fitness fanatic to enjoy this adventure tour. We are flexible, we'll adjust distances and levels of difficulty up or down according to your abilities and desires.
10. Are the hiking and biking distances the same on family trips?
To accommodate our youngest guests, family hikes and bike rides are typically shorter and easier. Our tour guides are happy to keep children entertained while adults/ teens opt for a challenging hike, bike ride, etc. – distances and levels of difficulty for adults and teens are easy to adjust.
11. How many people are typically on your tours?
We only offer completely private tours, so only the people you book for will be on the tour. If you are alone, it will just be you and your guide. If you are a couple, just the two of you and your guide, and so on. We believe this is the best type of tour, so that it can be personalized to you, go at your own pace, and so that you can have the full attention of your guide for the duration of the tour.
12. Is this adventure a good choice for solo travelers?
Yes, it is. Many of our guests travel solo. You will still have a private tour guide and driver to accompany throughout the journey. However, you have to cover all expenses regarding accommodations (single room), tour guides, and transportations because no-one shares cost with.
13. What vaccinations are recommended for this adventure?
It's important that you receive the most accurate and up-to-date travel health information for the region you will be visiting. The only one qualified to provide you with this advice is your family physician or a specialist from a Travel Health clinic.
14. What should I pack for this adventure?
We always recommend packing as light as possible. The basics are lightweight clothing that can be layered, long-sleeved shirts, T-shirts and tank tops (be respectful of the culture you are visiting), socks – wool socks are best for hiking, comfortable walking shoes, rain jacket or umbrella, hat or sun visor, sunglasses, diarrhea/laxative medicines. Just pack smart! Ask your travel consultant for more information regarding what to pack because it depends on your traveling time.
15. What's the climate like?
Whilst Vietnam is typically warm and humid, the weather can vary significantly from one region to another due to the country's length. The weather in Vietnam can be split by region and seasons, so please check with our travel consultants for more information.
16. How if bad weather such as storm, flood, landslide occurs during my holiday with Vietnam Tours?
Our Travel Consultants and Tour Operators keep checking weather forecast every-day, if the weather is bad and it may affect to your safety, we will discuss with you regarding a tentative program immediately to ensure the best interests of the group.
17. What is tipping information?
If you're happy with the service you received, providing a tip for tour guides, drivers - though not compulsory - is appropriate. While it may not be customary to you, it's of great significance to the people who will take care of you during your travels, inspires excellent service, and is an entrenched feature of the tourism industry.
18. How do I get to the hotel from the airport when I arrive?
When you arrive at airports, you will be greeted with your name on our driver/ tour guide's welcome sign, then get transferred to your hotel.
19. Do tour rates include international flights?
This tour only includes domestic flights. We find that it is usually less expensive for travelers to book these separately and this also allows you the flexibility to choose the schedule and routing that is most convenient for you. You can purchase international flights on your own, or we can certainly help you arrange these flights with an airfare consolidator who specializes in international flights.
20. Are the rates displayed per person or per room?
The prices shown on our website are per person based on twin/ double accommodation.
21. Any surcharges if my travel dates are during Christmas or New Year Holidays?
The rates are regular price and they are not included a compulsory dinner (Gala Dinner) on the day of Christmas or New Year Eve. Surcharges depend on specific hotels you stay at, so our travel consultants will give further information to you in communications.
22. Are there any discounts available?
We offer select trip discounts periodically throughout the year, especially in the low season (Summer time in Vietnam is from May to Sep). Please contact our travel consultants to get more details.
23. How do I pay when I want to book this tour?
We accept payment by debit/ credit card (Visa, Master, Amex), cash and bank transfer. When you confirm a booking with us, we will send you our online payment link or bank details to deposit 30% of the total tour cost. The balance will be due as soon as you arrive in Cambodia. Our travel consultants will give more details via email about payment instruction.
24. What happens if I fall ill or injure myself?
Most travelling incidents are relatively minor, involving nothing more than cuts and bruises or a brief case of traveller's tummy. Our tour guides are trained to cope with these minor incidents but in the unlikely case of something more serious, we will seek local medical assistance. We suggest you buy cancellation and curtailment insurance.
25. Is travel insurance included? And is it recommended?
Travel insurance is not included in our tour price. Absolutely, we recommend you to contact with your local agent in your country to buy travel insurance which covers personal liability, cancellation, curtailment and loss of luggage and personal effects.
26. How to change or cancel my reservation?
You can change or amend your schedule in advance or during your trip but surcharge maybe applied according to our contract with local suppliers, hotels and airlines. Regarding cancelation terms, please check out this link: https://asiatravelandleisure.com/terms-conditions.html
WANT TO ASK A QUESTION?
Above Price Included
Accommodations with daily breakfast
Meals as mentioned in the itinerary
Private tours, transfers and all services as mentioned in the itinerary
Services of private drivers and air-conditioned vehicles
Service of English/ French speaking guides
Halong Bay cruise package (2 days/ 1 night) • 1 flight (Quang Binh - Hanoi)
Entrance fees, performances, boat trips & excursions.
Above Price Excluded
International flights into and out Vietnam
Meals other than those mentioned in the itinerary
Early check-in and late check-out at hotel
Personal expenses (such as laundry, telephone, drinks, etc.)
Tips for tour guides and drivers
Travel insurance
Vietnam Visa fee.
Vietnam Tours are private and depart daily. Vietnam Tours can organize any additional accommodation.
Call us on +8424 3942 9444 to speak to one of our experts or click here to request a quote.