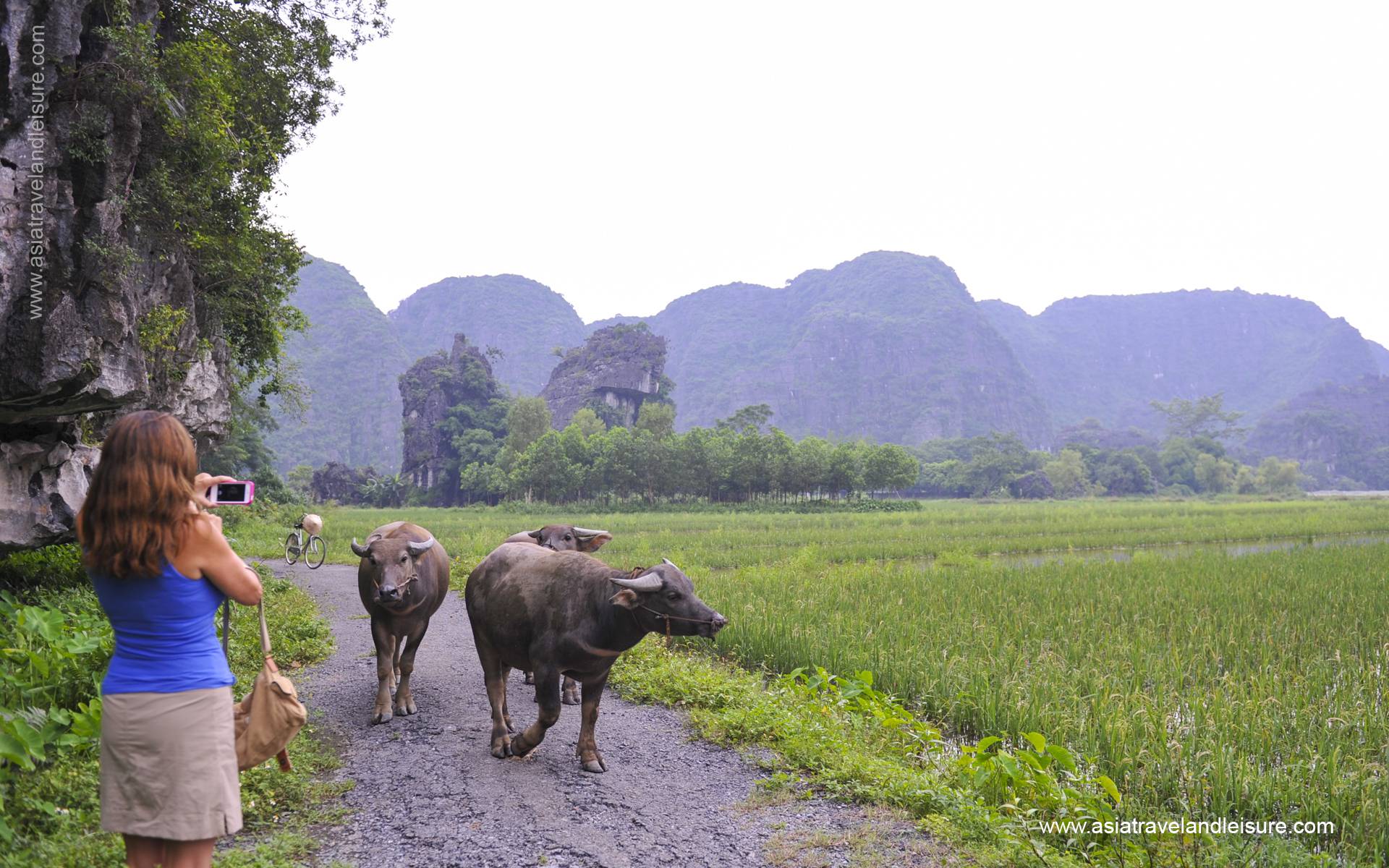 Nature, culture and history – Vietnam has it all. From North to South, this Vietnam Panorama tour offers vibrant city tempo in Hanoi, limestone karst topography in Ninh Binh, scenic Halong Bay, unparalleled leisure in Hoi An, beach city of Nha Trang, City of Love - Dalat, colonial Ho Chi Minh City and vivid Mekong Delta. This captivating tour is a great introduction to this unique and vibrant country.

Vietnam Panorama - 16 Days

-

Vietnam Tours
Start city: Hanoi (Vietnam)
Finish city: Ho Chi Minh City (Vietnam)
Duration: 16 Days & 15 Nights
Departure: Private Tour. Daily, upon your request.
Cities to visit: Hanoi - Ninh Binh - Halong Bay - Hoi An - Nha Trang - Da Lat - Ho Chi Minh City - Mekong Delta (Cai Be & Can Tho)
- Extendable with optional tours from Hanoi (Vietnam) and from Ho Chi Minh City (Vietnam)
Tour Highlights
Hanoi, vibrant city tempo
Ninh Binh, limestone karst topography
Scenic Halong Bay – the World Heritage Site
Unparalleled leisure in Hoi An
Nha Trang, a beach city
City of Love - Dalat
Colonial Ho Chi Minh City with Cu Chi Tunnels
Vivid Mekong Delta.
BRIEF & PRICE
ITINERARY
TOUR MAP
FAQs
BRIEF & PRICE
PRIVATE TOUR COST: Prices are quoted in US dollars per person double occupancy.
ITINERARY
Day 1: Hanoi Arrival
Welcome to Hanoi, the Vietnam's bustling colonial capital. Upon arrival, our representative will meet you outside the baggage claim of Noi Bai airport for greetings and hotel transfer. Check in and enjoy the rest of the day at your leisure to recover from jet lag.
Meals: N/A.Accommodation: Hotel in Hanoi.
Day 2: Hanoi City Tour
Today you have a full day to explore Vietnam's charming capital. With its wide tree-lined boulevards, French colonial architecture, peaceful lakes and ancient oriental pagodas, Hanoi is an eclectic mix that offers something for everyone. Your city tour will take you to Hanoi's key sites such as the Ho Chi Minh Complex (Ho Chi Minh's Mausoleum and stilt house), the nearby One Pillar Pagoda; the Presidential Palace; the Temple of Literature; the Quan Thanh Temple, the sedate Tran Quoc Pagoda & West Lake; and one of the city's museums (a choice between the History Museum and the Ethnology Museum). In the evening enjoy a traditional Water Puppet Performance - a unique Vietnamese Art form hailing from Southeast Asia's wet-rice culture.
Meals: Breakfast.
Accommodation: Hotel in Hanoi.

Day 3: Hanoi – Duong Lam ancient village – Mong Phu Hamlet
Today you leave Hanoi and travel to Duong Lam village, a purely agricultural village of the Northern Red River delta where still preserve many hundred-year-old houses. Upon arrival, bike along tiny ancient alleys to visit Mong Phu temple in Mong Phu hamlet - the only hamlet whose original village entrance gate remains intact, dedicated to national heroes. Continue riding around the village to discover the daily life and farming working of Vietnamese peasants along the terrace with a stop in two ancient houses: the biggest ancient house was build 200 years ago and the most ancient house back to 400 years ago.
After lunch, head to visit Ngo Quyen temple and Phung Hung temple dedicating to two national heroes Ngo Quyen and Phung Hung. Continue biking along the village for your further exploration before stopping at Mia Pagoda which was built in the 15th century and famous for its 287 statues of all sizes.
Drive back to Hanoi at late afternoon.
Meals: Breakfast & Lunch.
Accommodation: Hotel in Hanoi.

Day 4: Hanoi – Ninh Binh – Visit Bai Dinh Pagoda & Trang An
Today you are taken on 2.5 hour drive to Ninh Binh province where presents you an ancient land enriched with cultural and geographic wonders that were recently World Heritage Site listed.
Upon arrival, starting the day by visiting Bai Dinh Pagoda complex, the largest pagoda, not only in Vietnam but also in Southeast Asia. This place is scenically set on the foothill of Dinh Mountain, surrounded by amazing views of the exquisite river valley below, and dotted with limestone karsts, which will take your breath away. The pagoda complexes stunningly boast an array of the most massive and magnificent refined Vietnamese architecture, which will take a full day to explore.
After lunch, you will leave for the Trang An Grottoes, an outstanding 20 square kilometer majestic limestone massif, which rises dramatically out from the rice paddy fields. Embark on a traditional sampan gently rowed down the exquisite river through numerous caves: "Hang Toi" (Dark Cave), "Hang Sang (Light Cave) and "Hang Nau Ruou" (Cooking Wine Cave). Every passage brings a new hidden inside isolated valleys of tranquility, which perhaps transformed to another world and time.
Next we head to hotel in town and overnight in Ninh Binh.
Meals: Breakfast & Lunch.
Accommodation: Hotel in Ninh Binh.

Day 5: Ninh Binh – Drive to Hai Phong – Halong – Overnight on cruise
Join Orchid Cruise, the first 5 star cruise line that offers the most comprehensive itinerary. Explore the bay of wonders: Halong Bay, Bai Tu Long Bay and Lan Ha Bay. Take a rest on a leisure cruise; relax on the crystal blue ocean or on a charming white sand beach! You will soon forget all you stress and enjoy your journey to the land of pleasure: wonderful landscapes, fresh and tasty seafood, peaceful atmosphere. This will surely be a vacation of a lifetime!
After breakfast, meet your guide and driver at lobby of the hotel then spend about 3.5 hours on a journey passing Red River Delta provinces of Nam Dinh and Thai Binh to Dinh Vu Port in Hai Phong City where your 5 star Orchid Cruise awaits for you.
12h00: Transfer by tender to the Orchid Cruise.
12h15: Welcome aboard! Enjoy a complimentary drink while you checking and review safety instructions. Your exploration of Halong Bay begins - one of the New Seven Wonders of Nature.
12h40: Your Orchid Cruise proceeds to Da Chong islet where you can see a lighthouse built by the French over 100 years ago. Enjoy lunch on-board before continuing your journey via the islets of Duck (Con Vit) and Gia Luan. These amazing limestone karst formations rise up out of the sea in an impressive manner. This area is untouched due to being a fair way from Halong City, not so many tourist boats venture here, meaning it has a more isolated appeal.
14h45: Progress to Ba Trai Dao beach area of Lan Ha Bay, a separate part of Halong Bay. Geologically, Lan Ha is an extension of Halong Bay but sits in a different province of Vietnam. The region is known for its pristine beaches and spectacular beauty with about 400 fascinating karst islands and limestone outcrops. Unlike Ha Long Bay, the islands of Lan Ha Bay are forested, and most are small in stature.
15h00: Experience the small coracles that used by fishermen for centuries. You will learn how they go to trade or to cast fishing nets whilst navigating the waters in their tiny craft.
Alternatively, you may prefer to kayak amongst the jutting karsts or simply enjoy a swim in the crystal waters of the bay. (This program offered April through November)
In the winter months, (December to March) you may visit Viet Hai village. Bike along the village path and go through lush forests. Enjoy stunning scenery of rice fields on the way. Optional electric cart service is available (at an extra cost).
17h45: Return to your ship. You may watch the magnificent sunset over the Gulf of Tonkin or join a traditional cooking class. The ship's chef will instruct you in the making of some Vietnamese dishes.
Option: Massage service available, please book with Cruise Manager directly.
19h30: Dinner is served. Enjoy delicious local food prepared and served by professional on-board catering staff.
21h30: Watch the water glistening in the moonlight as you lounge on the top deck sipping a cocktail of choice or try your hand at squid fishing- one of the most interesting evening activities that you may experience. Overnight on board.
Meals: Breakfast, Lunch & Dinner.
Accommodation: Overnight on cruise.

Day 6: Halong Bay – Overnight on cruise
6h00: Early birds may like to join an early Tai-Chi class overlooking the bay.
Enjoy coffee, tea and pastries for breakfast served in the dining room with morning view of sunrise on the bay.
8h30: Transfer to a day boat to visit Ba Hang village, a small community with around 50 residents. Reach to Ba Hang village by a rustic–row boat; meet the local people who will help navigate to the village located in an area of quiet, peaceful and stunning scenery. Step by in time as the lives of the fisherman have changed little.
10h30: Admire incredible stalactites and stalagmites in Sung Sot Cave, one of the most beautiful caves in Halong Bay. Then return to the boat for lunch.
14h30: If the weather permits, you can swim by Ti Top Beach, which is famed for its fresh atmosphere, clean water, and smooth white sand.
16h00: Back to The Orchid to relax or enjoy panorama views of the bay at the sunset.
19h30: Dine on-board.
Meals: Breakfast, Lunch & Dinner.
Accommodation: Overnight on cruise.

Day 7: Halong Bay – Hanoi – Fly to Danang – Hoian
6h00: Rise early to witness the bay at its very best whilst enjoying an invigorating Tai Chi session on the sundeck. After breakfast, continue your journey and head out by canoes to explore the bay in the area where the Dark & Bright Cave is situated.
9h45: Return to The Orchid for check-out procedures.
10h15: Enjoy a delightful brunch as you are navigating back to Dinh Vu Pier.
11h35: Disembark.
12h10 We bid farewell at Dinh Vu port, this is the end of the program.
Our driver will meet you at the dock and take you to Noi Bai airport for your flight to Danang. Upon arrival, take a short drive to hotel in ancient town, Hoian.
Meals: Brunch.
Accommodation: Hotel in Hoian.

Day 8: Hoian – My Son Sanctuary – Walking Tour
Today you visit the ruins at My Son Holy Land of the ancient Cham civilization that ruled Central Vietnam from the second to the thirteenth century. Their religion was primarily derived from Indian Hinduism. My Son is considered to be one of the best-preserved Cham structures in Vietnam. The complex is comprised of seventy Hindu-like towers and temples dating from the second century. This site is a must-see for those people who are interested in architecture and ancient civilizations and is now one of five UNESCO World Heritage sites in Vietnam.
Drive back to Hoian for lunch time. This town is wonderful break in the middle of your journey.
From the 16th to 18th centuries, Hoian was a thriving international commercial port for Chinese, Dutch, French, Japanese, Portuguese and Arab traders. These people came primarily to trade in the high grade silk, which is still produced in the area, as well as ceramics. Today, Hoian is a quaint riverside town, popular with tourists for its eclectic architecture, tailors shops, and numerous cafes. Some of the buildings in the narrow streets have remained unchanged for more than a century.
We enjoy a half-day walking tour through the narrow winding streets of the Ancient Quarter visiting Chua Ong Pagoda, Chinese Assembly Halls, the 200-year old Tam Ky ancestral house, and the Japanese Bridge. Return to hotel in the late afternoon and enjoy a free evening.
Meals: Breakfast.
Accommodation: Hotel in Hoian.
Day 9: Hoian – Free day
Today is free day. You may relax on your own or contact with our travel consultant to be advised on some other activities that you can choose to take part in.
Meals: Breakfast.
Accommodation: Hotel in Hoian.

Day 10: Hoian – Danang – Fly to Nha Trang
Enjoy your free morning until the transfer to Danang airport for short flight to Nha Trang where 10km of white sandy beach awaits. Rest of the day, you are free at leisure (please contact us for optional excursions that can be arranged such as boat trips, village excursions or city tour, etc.)
Meals: Breakfast.
Accommodation: Hotel in Nha Trang.

Day 11: Nha Trang – Free at leisure
Elegantly located in the South Central Coast of Vietnam, Nha Trang is the most popular spot for beach lovers with a wide range of pristine beautiful beaches with crystal clean water and white sandy strips, Western qualified hotels and resorts, international restaurants and bars. Many activities available such as walking, cycling or cruising to nearby villages, off shored islands; snorkeling or taking a diving PADI course… are surely make it your most gorgeous beach break.
Please contact us if you are interested in above activities or just spend your leisure day to explore by your own and relax on the beach.
Meals: Breakfast.
Accommodation: Hotel in Nha Trang.

Day 12: Nha Trang – Drive to Dalat – City Tour
Today your guide & driver will meet you at the hotel at 10:00am for the 4 hour transfer (150km) to Dalat, a Little Paris of South-East Asia at the height of 1,500 m above sea-level, cool climate throughout the year. Dalat is known for pine tree forests, waterfalls, beautiful lakes, flower-gardens.
An afternoon of sightseeing takes in the art deco former summer residence of Bao Dai – the last Emperor of Vietnam, the old Dalat Railway Station, the Central Market and famous XQ embroidery workshop. There will be the chance for a short walk around Xuan Huong Lake to get a feel for this delightful city in the evening.
Meals: Breakfast.
Accommodation: Hotel in Dalat.

Day 13: Dalat Countryside Tour – Fly to Saigon
Your guide will meet you at 8 am. Begin your journey to Tanung Village. Along the way there is so much to see and learn about countryside living and what is produced in the region: local vegetables & flowers farms, pine trees, coffee plantations, rice wine, cricket farm and especially the local silk produce. This morning you will travel through plantations and forests, see the spectacular Elephant waterfall- one of the biggest falls close to city and the giant Buddha statue in Linh An Pagoda. Lunch spot will be recommended by your guide as you arrive back in Dalat city. This afternoon on your return journey you will take the Cable Car down Tuyen Lam Lake and Truc Lam Meditation Pagoda – a famous religious place with the most beautiful garden in the area. Next we drive direct to Lien Khuong airport for catching flight to Vietnam's modern metropolis: Saigon.
On arrival, you will be picked up to hotel in city central to check in and spend overnight here.
Meals: Breakfast.
Accommodation: Hotel in Saigon.

Day 14: Saigon – Cu Chi tunnels – City Tour
Today we travel outside of Saigon to visit the Cu Chi Tunnels. The Cu Chi Tunnels are an underground labyrinth of passageways, used by the Viet Cong during the Vietnam War (or "American War" as it's referred to here) as protection against American air raids. Those inclined are invited to crawl through selections of the tunnels to better understand what life was like for the Vietnamese soldiers during wartime.
Stop for lunch then continue on the city tour with a visit to the War Remnants museum and former Presidential Palace. We conclude the day exploring the city's French colonial architecture, stopping at the Notre Dame Cathedral and the Old Post Office and browse through the amazing array of goods at Ben Thanh Market.
Meals: Breakfast.
Accommodation: Hotel in Saigon.

Day 15: Saigon – Cai Be – Can Tho
Today you leave Saigon and travel to the Mekong River Delta. Enjoy an early breakfast at the hotel before driving to the riverside town, Cai Be. Along the way, stop at a candy factory and orchard garden, where you have an opportunity to listen to traditional music. Enjoy a relaxing lunch at a riverside restaurant, then cross the river by motorized boat to visit some fluvial islands and explore the countryside by bicycle. Your driver will meet you at Vinh Long pier and take you to Can Tho City for the night.
Meals: Breakfast & Lunch.
Accommodation: Hotel in Can Tho.

Day 16: Can Tho – Floating market – Saigon Depature
Wake early and leave the hotel to visit the famous Cai Rang floating market by motorized boat. Continue the boat ride to visit the Mekong Delta's famous fruit orchards and sample the fresh, exotic fruit. Then venture deeper into the country-side, passing traditional houses made of wood and palm leaves as you observe the activities of the local people. Next we drive back to Saigon, drop you off at Tan Son Nhat airport for onward flight home. Tour ends. CAM ON VA HEN GAP LAI (Thank you and See you again).
Meals: Breakfast.
Accommodations: N/A.
TOUR MAP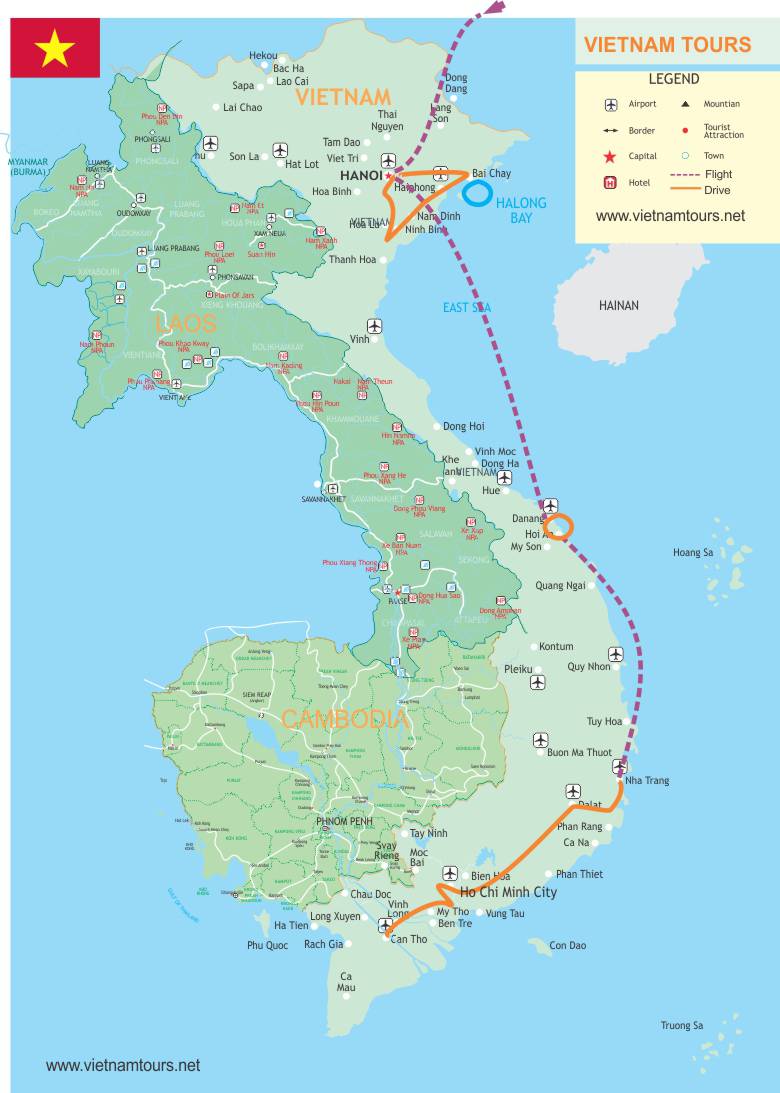 FAQs
1. Are tour dates flexible?
Yes, this tour package is private and you can depart on any dates at your convenience.
2. Can I extend or change my stay?
Absolutely! Extra days can be arranged in most areas if desired. Let us know how you would like to customize your trip and we will do our best to accommodate you. You can ask helps from our travel consultant to amend or extend your stay (subject to availability of hotels and flights; surcharge may be applicable).
WANT TO ASK A QUESTION?
Above Price Included
Accommodations at selected hotel
Breakfast & meals as mentioned in the itinerary
Transfer by private car with A/C
3 days/ 2 night cruise package on Halong Bay
3 domestic flights
English speaking guides
Bottled drinking water & tissues
Entrance fees, boat trip, performance & excursions.
Above Price Excluded
Travel insurance
Flights into and out Vietnam
Vietnam Visa fee
Tipping and other personal expenses.
Vietnam Tours are private and depart daily. Vietnam Tours can organize any additional accommodation.
Call us on +8424 3942 9444 to speak to one of our experts or click here to request a quote.