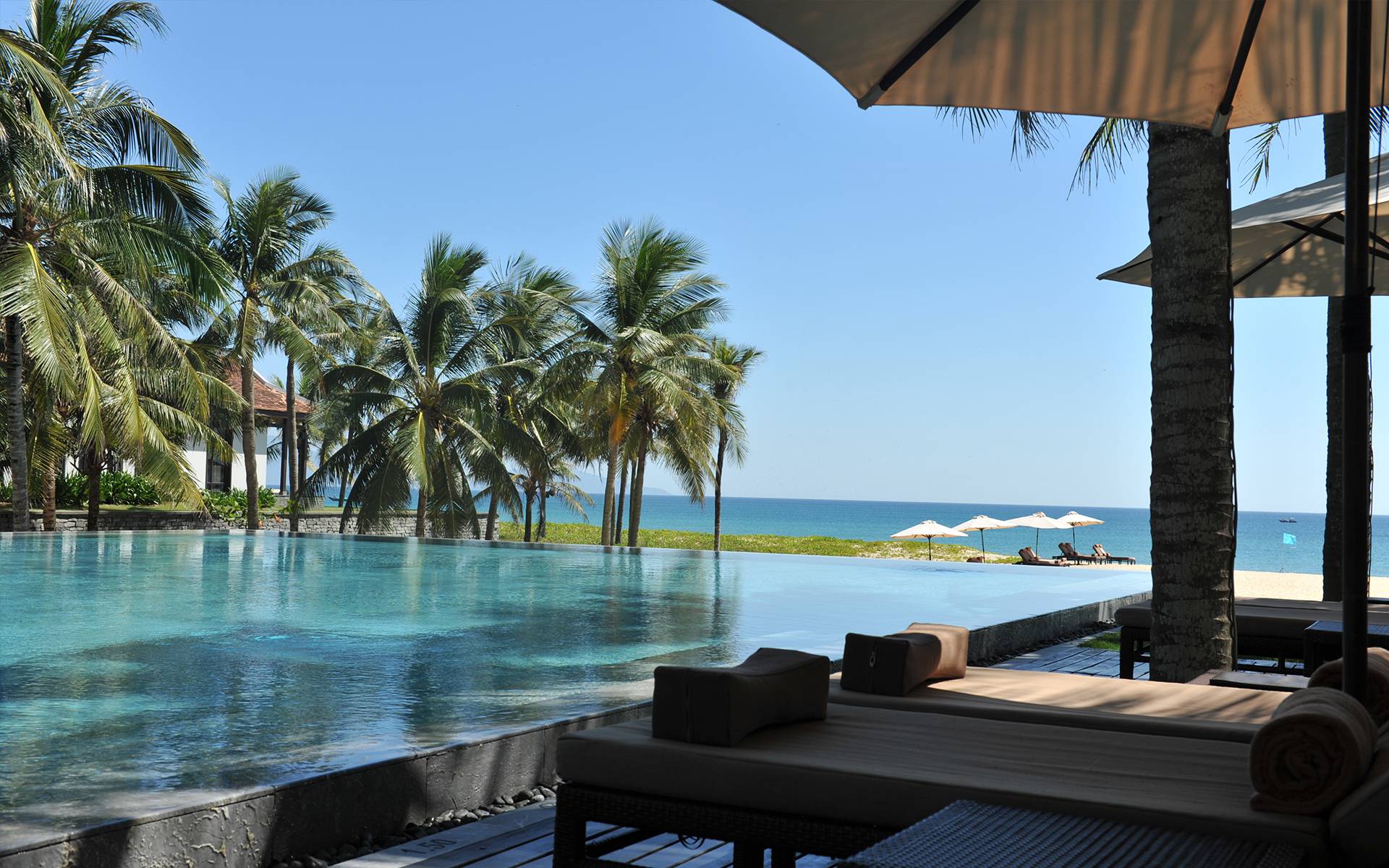 The two week Vietnam Travel & Leisure package offers a luxurious & alluring private-guided getaway through the vibrant & ancient cities of Vietnam to high-end visitors. Stay in the most luxurious accommodations that Vietnam has to offer. If you are seeking an authentic five-star travel experience to Vietnam that can't be bought off the shelf or a "one of a kind" journey of a lifetime for you and your love ones. Now you can have your dream, an exceptional Vietnam Holiday - just the way you expect for.
Vietnam Travel & Leisure - 14 Days

-

Vietnam Tours
Start city: Ho Chi Minh City (Vietnam)
Finish city: Hanoi (Vietnam)
Duration: 14 Days & 13 Nights
Departure: Private Luxury Tour. Daily, upon your request.
Cities to visit: Ho Chi Minh City - Can Tho - Nha Trang - Hoian - Hanoi - Hai Phong - Halong Bay
- Extendable with optional tours from Ho Chi Minh City (Vietnam) and from Hanoi (Vietnam)
Tour Highlights
Experience service provided at luxury hotels in Vietnam that goes way beyond the expectations of a five-star hotel, taking the concept to new heights
Discover bustling Saigon
Overnight on luxury Mekong Cruise
Relax on white sand beach in Nha Trang and enjoy sunset on boat
Wander UNESCO Hoian Ancient Town
Explore Halong and Lan Ha Bay with luxury cruise
See the most highlights of Hanoi and experience a cyclo around Old Quarter.
BRIEF & PRICE
ITINERARY
TOUR MAP
FAQs
BRIEF & PRICE
PRIVATE TOUR COST: Prices are quoted in US dollars per person double occupancy.
ITINERARY
Day 1: HCMC Arrival - Dinner on cruise
Upon arrival to Ho Chi Minh City (commonly known as Saigon), our guide and driver will be waiting to provide transport to the hotel for check in.
You are free to explore Ho Chi Minh City, considered as Vietnam at its most dizzying: a high-octane city of commerce and culture that has driven the country forward with its pulsating energy.
In the late afternoon, embark Bonsai cruise on Saigon River. Enjoy your delicious dinner and splendid Saigon at night.
Meals: Dinner.Accommodation: Hotel in Ho Chi Minh City.

Day 2: HCMC Tour
Begin your full day tour with the visit to Chinatown and the Cantonese-style Thien Hau Pagoda. Visit Vietnam's first traditional medicine museum, the FITO Museum, with an amazing collection of 3,000 items relevant to the development of traditional Vietnamese medicine. Implements used to prepare indigenous herbs and objects commonly found in traditional pharmacies can be seen in the galleries as well as ancient books and documents on traditional Vietnamese medicine.
This afternoon, visit the War Remnants Museum and the former Presidential Palace. Continue with a stroll to the major sights of colonial Ho Chi Minh City: the Old Saigon Post Office, Dong Khoi Street (formerly Rue Catinat), Continental Hotel, Opera House and City Hall. Finish your full day tour with the visit to Ben Thanh Market where an incredible display of fresh produce is offered.
Meals: Breakfast.
Accommodation: Hotel in Ho Chi Minh City.

Day 3: HCMC - Mekong Delta (Song Xanh Cruise) - Can Tho
After breakfast, your guide meets you at your hotel and transfer on 2.5 hour driving to Cai Be by private car. Embark your cruise at the noon time and start the Mekong Delta discovery. Stop along the way for glimpses of local handicrafts that provide a living for the river people. Observe from the comfort of your boat life as it plays out on the riverbanks - the people, the stunning landscapes - while your attentive crew serves tea and seasonal fruit. Before arriving at Sa Dec, go ashore to visit a pottery factory where everything is made by hand and all is recycled. Arrive in Sa Dec and take a stroll to the outdoor market. Visit the local celebrity: the ancient house of Huynh Thuy Le, real-life character of the novel and film "The Lover by Marguerite Duras". Lunch is served on board while cruising towards Can Tho along a narrow canal teeming with life. You will pass monkey bridges and tiny villages before stopping for a visit to a Cao Dai Temple. Cycle or row in a small boat around the countryside to explore the surroundings. Your last stopover before sunset is at an ancient house, a "Nha Co" dating back to the 19th Century. The owner welcomes you and a candlelit dinner is served in this authentic countryside setting. After dinner return on board while Song Xanh continues its cruise towards Hau River. Overnight on board
Meals: Breakfast, Lunch and Dinner.
Accommodation: Song Xanh Cruise.

Day 4: Can Tho - HCMC - Fly to Nha Trang
Early wake-up for a visit to the famous Cai Rang Floating Market up at 6h00am which only operates from 5h00 to 8h00 A.M every day. Breakfast is served on board while the Song Xanh navigates towards the market among local barges laden with fruit and vegetables. Be sure to have your camera ready! Later on, cruise towards Victoria Can Tho and disembark at the hotel's private jetty. Your driver waits for you at the dock and transfer you back to Saigon.
Drive straightly to Tan Son Nhat Airport to catch your short flight to Nha Trang. Check in your hotel and free at your leisure.
Meals: Breakfast.
Accommodation: Hotel in Nha Trang.

Day 5: Nha Trang - Sunset Boat Tour
Enjoy your full day for beach relaxation until joining in Sunset Cocktail and dinner cruise.
As the sun sets the boat heads out into Nha Trang Bay, you enjoy a delicious seafood dinner as you are entertained by musicians who play against a stunning backdrop of the stars, moon and the city lights.
There is no better way to spend a tropical evening than on an Emperor Junk cruise where the staff go out of their way to ensure it is a memorable one. Return to your hotel in the late evening.
Meals: Breakfast and Dinner.
Accommodation: Hotel in Nha Trang.

Day 6: Nha Trang - Fly to Danang - Hoian
Have breakfast at hotel then catch the flight to Danang. Upon your arrival, meet our guide at the airport and be transferred to your hotel in Hoian.
Check in your hotel and enjoy the rest of day at your leisure.
Meals: Breakfast.
Accommodation: Hotel in Hoian.

Day 7: Hoian City Tour
Enjoy breakfast at your resort and free time for beach relaxation.
In the afternoon, our guide will meet you again and take you to Hoi An ancient town. From the 16th to 18th centuries Hoian was a thriving international port frequented by Chinese, Dutch, French, Japanese, Portuguese and Arab traders, who came to trade in the high quality silk still produced in the region. Today, Hoian is a relaxing resort popular with tourists for its eclectic architecture, skilled tailors and numerous cafes. Immerse yourself in the tranquility and charm of this sleepy riverside town. Take a short walking tour through the narrow winding streets of the ancient town centre, visiting Chua Ong Pagoda, the Chinese Assembly Hall, the 200-year old Tan Ky ancestral house and the famous Japanese Bridge.
Then, transfer out of the town for your unique sunset experience like a local fisherman. The special part of the day for a local Hoi An fisherman is in the late afternoon, setting out into the Cua Dai Sea with expectations of a bountiful catch. The passing parade of the local fishing fleet setting out to sea and the magic of the sun slowly sinking in the western sky. Our tour also provides you with the opportunity to experience paddling the strange and unique Vietnamese bamboo basket boat. Back on-board, you can enjoy the setting of the sun and the day's end with refreshments including cold beer and soft drinks together with a Complimentary Vietnamese Snack.
Meals: Breakfast.
Accommodation: Hotel in Hoian.
Day 8: Hoian - Free at leisure
Free time to relax on beach or explore the ancient town on your own. Or you can contact our travel consultant for more activities: Eco tour, cooking class, Street food tour, etc. (surcharge will be applied).
Meals: Breakfast.
Accommodation: Hotel in Hoian.

Day 9: Hoian - Danang - Fly to Hai Phong - Overnight on cruise
Leave Hoian and catch the short flight to Cai Bi Airport (Hai Phong City). Your driver waits for you at the airport and transfer on 30-minute driving to Dinh Vu Port where you will board the Orchid Cruises on an enchanting journey throughout the beautiful Ha Long Bay.
On arrival, the welcome drinks, cruise briefing and safety instructions are delivered by the cruise manger followed by your cabin check in. The uniquely designed itineraries allow you to experience the less traveled routes that other cruises simply don't offer. Apart from exploring the natural beauty of many islets in the leisure pace, the today program also includes more activities such as kayaking on the vast sea, cooking class onboard to challenge your skills in preparing a very famous Vietnamese dish. All fresh seafood meals are on-house as well.
Meals: Breakfast, Lunch, Dinner.
Accommodation: Orchid Cruise.

Day 10: Halong Bay Cruise
The day starts early onboard with Tai Chi session on the sundeck.
Coffee, tea and pastries for light breakfast are served in the dining room with morning view of bay's landscape, then continue your journey.
Later, transfer to day-boat for visit Viet Hai village. You will take the bicycle trip along the village path and go through rain forests and dark tunnel. Enjoy stunning scenery of rice fields on the way. Stop at the village to relax. Visit an ancient local house, made from straw, mud, bamboo…you will have chance to see the local life on a valley of local people. Optional electric car service is available (at an extra cost).
Back to day boat for visiting Bai Tu Long Bay. Lunch served on day boat.
Visit Bai Tu Long Bay, free kayaking and swimming at Ba Ham Lake area situated in the middle of a narrow, rectangular area, with the all four sides enclosed by vertical cliffs. (if the weather permit).
In the late afternoon, return to main cruise and join a traditional cooking class. After delicious dinner, enjoy the landscape of the bay at night up on the top deck.
Meals: Breakfast, Lunch, Dinner.
Accommodation: Orchid Cruise.

Day 11: Hai Phong - Hanoi
Wake up to fresh coffee, doing Taichi before cruising back to the shore. En route the junk weaves through impressive rock formations where the Dark & Bright Cave is situated. After having a brunch, disembark to head back to Hai Phong City which is not only famous as a major industrial port city but there is also enormous potential for tourism. It preserved many architectural delights, including traditional architecture such as pagodas, temples and French neoclassical architecture of the old neighborhood. Once you reach Hai Phong, start the city tour with the Opera Theatre, also called Municipal Theatre, one of three theatres built by the French in Vietnam, the cultural structure typical of Port City. Next, visit Flower Stall & Le Chan Statue - one of the female generals under the command of the Trung Sisters (Hai Ba Trung) rose against Chinese rule in the year 43 C.E. Walk along the tree lined streets of this beautiful city for the orientation. Conclude your half day city tour of Hai Phong at Du Hang Pagoda, the ancient architecture originated during the Early Le dynasty. Admire the many valuable Buddha statues, horizontal lacquered boards and parallel sentences bearing the art style of the Nguyen dynasty.
Later in the afternoon, drive to Hanoi on one of Vietnam's the most modern freeways.
Meals: Brunch.
Accommodation: Hotel in Hanoi.

Day 12: Hanoi City Tour
Today is a full day to explore Vietnam's charming capital. Start with a visit to the Temple of Literature, which is well known as the first university of Vietnam. Follow it with one of the city's museums (a choice between the History Museum and the Ethnology Museum) before your lunch (own account).
In the afternoon, transfer to the Ba Dinh Square where stands the Mausoleum of President Ho Chi Minh who led Vietnam to independence from French colonial rule. This site has become an important city landmark and a perfect place to learn more about Vietnam's rich history. From there, wander through the beautiful surrounding gardens toward the One Pillar Pagoda and Presidential Palace, where a replica of Ho Chi Minh's simple working space is on display.
Later, hop on a cyclo, one of the most typical vehicles in Hanoi, is a human-powered transport with a seat at the front for passengers and the driver at the back. With this an hour leisurely ride, which is perfect chance for photos and slow-moving sightseeings, you will have the local closer touch. Disembark at the ancient city gate of O Quan Chuong, then continue walking to Thanh Ha local market and through bustling streets& alleys before ending at Ta Hien Street where you will enjoy a glass of local beer at its corner with all the locals around. Conclude the day with a traditional Water Puppet Performance – a unique Vietnamese Art form hailing from Southeast Asia's wet-rice culture.
Meals: Breakfast.
Accommodation: Hotel in Hanoi.

Day 13: Hanoi - Free at leisure
Enjoy your last day in our bustling capital for relaxing or shopping around Old Quarter.
Meals: Breakfast.
Accommodation: Hotel in Hanoi.

Day 14: Hanoi Departure
You are free at your leisure until the driver takes you to the Noi Bai International Airport for your departure flight.
Meals: Breakfast.
Accommodation: N/A.
TOUR MAP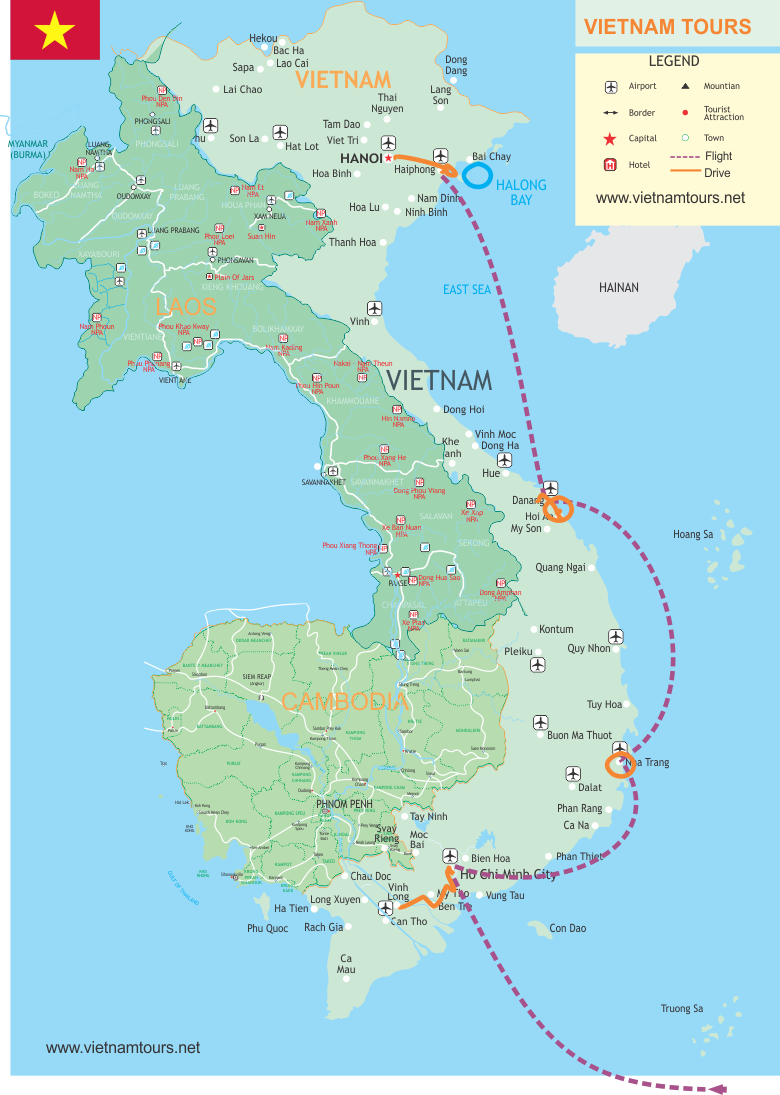 FAQs
1. Are tour dates of this Vietnam Travel & Leisure package flexible?
Yes, this luxury tour package is private and you can depart on any dates at your convenience.
2. Can I extend or change my stay?
Absolutely! Extra days can be arranged in most areas if desired. Let us know how you would like to customize your trip and we will do our best to accommodate you. You can ask helps from our travel consultant to amend or extend your stay (subject to availability of hotels and flights; surcharge may be applicable).
3. Are meals included?
We have tried to balance flexibility and convenience regarding meal options. This tour package includes daily buffet breakfast at hotels and some lunches or dinners as listed in parenthesis next to the tour itinerary on each day tour. In the major cities, where there are a wide variety of restaurants, we generally do not include meals to allow our travelers the flexibility of choosing their own food preferences. Our tour guides can recommend some options for our clients to choose from according to traveler's interest & budget.
4. What type of food is typical of Vietnam?
Vietnamese cuisine is quite varied from the North to the Centre and to the South, having had many external influences over the years that have created an interesting mix of cooking methods and ingredients. French presence in the recent past has led to the assimilation of French cuisine influence, and is often attributed with Pho noodle soup's rise to popularity. Most meals include rice, as well as fish sauce which is a popular condiment added to almost every meal throughout the country.
5. What if I have a special request on food?
You just need to share us your request on type of foods, we will choose a right restaurant and order suitable menus for you.
6. What are the accommodations like?
For luxury travel packages, we only choose 5 star accommodations or if not – they will be the best ones in their regions. In case you prefer to stay at the TOP luxury hotels/ resorts/ cruises or higher room category, just ask our travel consultants to revise the quotation. Don't forget that you can give your favorite name of hotel brands to us, so we can get your concept.
7. Can I get early check-in or late check-out?
Yes this may be possible but is wholly at the discretion of the hotel and is often charged extra. We can, if you wish, book you additional nights at the hotel to guarantee that you check in as soon as you arrive or to enable you to keep your room until your departure time. We usually recommend this for flights through the night or at unsociable hours. Some hotels have courtesy room/luggage storage facilities and we advise you to check if this is possible at the time of your booking.
8. What are the guides like?
All of our tour guides are professional, helpful and friendly! They are fluent in English (or French, Spanish etc.). They are from the local areas where they guide and are among the very best guides available in each region. Our guides treat our travelers like friends, showing visitors both the major highlights and the local treasures.
9. What type of transportation is used?
Our Vietnam tours utilize a variety of primarily private transportation (arranged just for your groups) including new and modern vans/ cars, motor boats, etc. We use a mix of private (vans/ cars)/ public transportation (domestic flights, sharing cruises, trains) to provide travelers with the safest and most efficient transit in each area.
10. How do I get to the hotel from the airport when I arrive?
When you arrive at airports, you will be greeted with your name on our driver/ tour guide's welcome sign, then get transferred to your hotel.
11. How many people are typically on your tours?
We only offer completely private tours, so only the people you book for will be on the tour. If you are alone, it will just be you and your guide. If you are a couple, just the two of you and your guide, and so on. We believe this is the best type of tour, so that it can be personalized to you, go at your own pace, and so that you can have the full attention of your guide for the duration of the tour.
12. Is this trip a good choice for solo travelers?
Yes, it is. Many of our guests travel solo. You will still have a private tour guide and driver to accompany throughout the journey. However, you have to cover all expenses regarding accommodations (single room), tour guides, and transportations because no-one shares cost with.
13. What vaccinations are recommended for this holiday?
It's important that you receive the most accurate and up-to-date travel health information for the region you will be visiting. The only one qualified to provide you with this advice is your family physician or a specialist from a Travel Health clinic.
14. What's the climate like?
Whilst Vietnam is typically warm and humid, the weather can vary significantly from one region to another due to the country's length. The weather in Vietnam can be split by region and seasons, so please check with our travel consultants for more information.
15. How if bad weather such as storm, flood, landslide occurs during my holiday with Vietnam Tours?
Our Travel Consultants and Tour Operators keep checking weather forecast every-day, if the weather is bad and it may affect to your safety, we will discuss with you regarding a tentative program immediately to ensure the best interests of the group.
16. What is tipping information?
If you're happy with the service you received, providing a tip for tour guides, drivers - though not compulsory - is appropriate. While it may not be customary to you, it's of great significance to the people who will take care of you during your travels, inspires excellent service, and is an entrenched feature of the tourism industry.
17. Do tour rates include international flights?
This tour only includes domestic flights. We find that it is usually less expensive for travelers to book these separately and this also allows you the flexibility to choose the schedule and routing that is most convenient for you. You can purchase international flights on your own, or we can certainly help you arrange these flights with an airfare consolidator who specializes in international flights.
18. Are the rates displayed per person or per room?
The prices shown on our website are per person based on twin/ double accommodation.
19. Any surcharges if my travel dates are during Christmas or New Year Holidays?
The rates are regular price and they are not included a compulsory dinner (Gala Dinner) on the day of Christmas or New Year Eve. Surcharges depend on specific hotels you stay at, so our travel consultants will give further information to you in communications.
20. Are there any discounts available?
We offer select trip discounts periodically throughout the year, especially in the low season (Summer time in Vietnam is from May to Sep). Please contact our travel consultants to get more details.
21. How do I pay when I want to book this tour?
We accept payment by debit/ credit card such as Visa, Master, Amex (additional service fee 3% is applicable), cash and bank transfer. When you confirm a booking with us, we will send you our online payment link or bank details to deposit 30% of the total tour cost. The balance will be due as soon as you arrive in Cambodia. Our travel consultants will give more details via email about payment instruction.
22. What happens if I fall ill or injure myself?
Most travelling incidents are relatively minor, involving nothing more than cuts and bruises or a brief case of traveller's tummy. Our tour guides are trained to cope with these minor incidents but in the unlikely case of something more serious, we will seek local medical assistance. We suggest you buy cancellation and curtailment insurance.
23. I can't use my holiday anymore – can I give it to someone else?
Yes, our packages are usually transferable (unless the terms of a specific offer state otherwise). So long as you haven't used part of your package, you can (generally) give it to a friend or family member.
24. Is travel insurance included? And is it recommended?
Travel insurance is not included in our tour price. Absolutely, we recommend that you seek the assistance of a qualified insurance broker to buy travel insurance which covers personal liability, cancellation, curtailment and loss of luggage and personal effects.
25. How to change or cancel my reservation?
You can change or amend your schedule in advance or during your trip but surcharge maybe applied according to our contract with local suppliers, hotels and airlines. Regarding cancelation terms, please check out this link: https://asiatravelandleisure.com/terms-conditions.html
WANT TO ASK A QUESTION?
Above Price Included
3 Flights: HCMC – Nha Trang; Nha Trang – Danang; Danang – Hai Phong
Luxury 5* accommodations
3 day/ 2 night cruise package on Halong Bay
Private tours, transfers and all services as mentioned in the itinerary
Services of private drivers and air-conditioned vehicles
Service of English speaking guides in every location
Entrance fees for all mentioned sights visited
Meals as mentioned in the itinerary.
Above Price Excluded
International flights into and out Vietnam
Meals other than those mentioned in the itinerary
Early check-in and late check-out at hotels
Personal expenses (such as laundry, telephone, drinks, etc.)
Tips for guides and drivers
Travel insurance
Vietnam Visa fee.
Vietnam Tours are private and depart daily. Vietnam Tours can organize any additional accommodation.
Call us on +8424 3942 9444 to speak to one of our experts or click here to request a quote.