Cu Chi Tunnels is one of the greatest works constructed by Vietnamese people as a place to live and hide from being attacked during the Vietnam War. A visit to Cu Chi Tunnels will help you understand the underground life of the Vietnamese soldiers during the war.

Located 70km northwest of Ho Chi Minh City, the historical and unique site has a 250km extensive network of connecting underground tunnels with the innumerable trap doors, living areas, kitchens, armory, storage facilities, field hospitals, command centers, etc.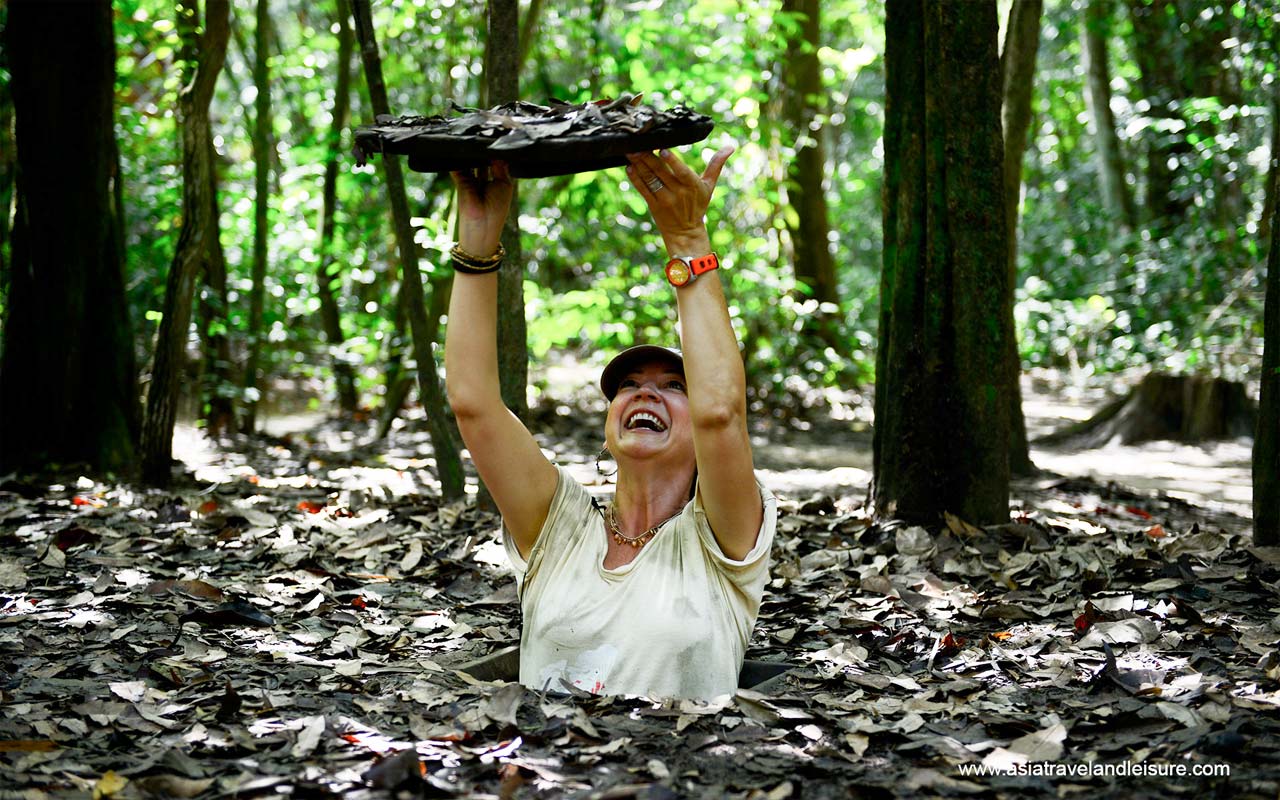 Cu Chi Tunnels is one of the most popular tourist attractions for those who want to learn more about the country's rich history. Recently, there are two main tunnel display sites: Ben Duoc and Ben Dinh. The Ben Duoc site contains part of the original tunnel system while the Ben Dinh site features tunnel reconstructions and some of the tunnels have been made bigger to fit any visitors.

Before entering the underground tunnels, you will watch a short film of the Cu Chi Tunnels so that you know how the tunnel system actually works. Explore inside the tunnels by walking on your knees inside the tunnels and then try "khoai mi", a specialty of Cu Chi – a finger food which Vietnamese people and soldiers often ate during the wars. This is so exciting. Besides, you also have a chance to take part in many interesting activities here such as sports defense shooting, paint shooting, kayaking, and swan pedaling.


The months from December to April (dry season in Ho Chi Minh City) is the best time to visit Cu Chi Tunnels when the temperature is quite pleasant and it nearly has no rain during this period. You can take a taxi or bus from Ho Chi Minh City to get there. This site is open daily from 8 am to 5 pm and the entrance fee is 110,000VND/ per person.

Remember to bring a flashlight when going into the tunnel, wear sunscreen and a hat, and pack mosquitoes spray. You might also get dirty, so avoid wearing white clothes, choose cool ones and comfortable shoes.

Let's come to Cu Chi Tunnels to experience and feel the difference that you can never forget!