With its history line of more than 1,500 years, Tran Quoc Pagoda is the most ancient one in Hanoi. It is located near the West Lake in the middle of Thanh Nien road.

This pagoda started being built in 541, was completed in 545 under the reign of Emperor Ly Nam De and named Khai Quoc Pagoda (National Founder Pagoda). It was initially built on the bank of the Red River, outside of the Yen Phu Dyke. When confronted with the river's encroachment, the temple was relocated in 1615 to Kim Ngu (Golden Fish) islet of the West Lake where it is now situated and then renamed Tran Quoc Pagoda (National Defence Pagoda).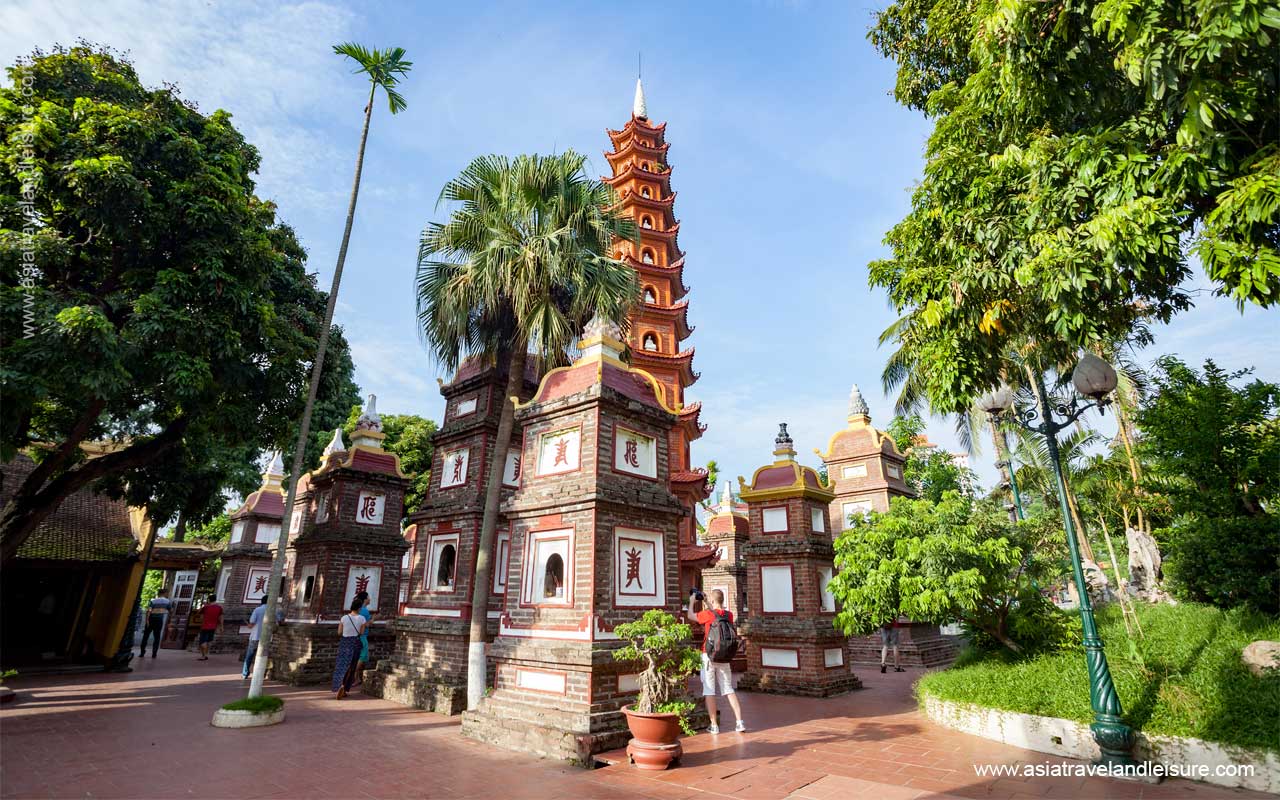 The most outstanding feature of the pagoda is its architecture that follows the strict rules of Buddhist architecture with many layers of buildings and three main houses. You can also see intricately carved statues dating to 1639, each of which bears unique facial feature.

It would be a miss if not mentioning the Bodhi tree regarded as Buddhism symbol in the garden of Tran Quoc Pagoda. It is a gift of the former Indian Prime Minister Razendia Prasat on the occasion of his visit to Hanoi in 1959. Now the tree is green and is easily recognizable in accordance with the heart-shaped leaves.

With its harmonious architecture taking advantage of the watery landscape and surrounding lush greenery, Tran Quoc Pagoda is a picturesque attraction. You will not forget the atmosphere and the stunning view of the pagoda when the sun sets down over the lake.

Open daily from 7:30 to 18:00, Tran Quoc Pagoda is free to enter all year long but you can give a donation. Since it is a place of worship, remember to dress conservatively out of respect for the monks and locals. Located about 2km north of Ho Chi Minh Mausoleum (5km from Hoan Kiem Lake, this is a good place to visit if you are going to move to West Lake, the largest one in Hanoi.